Comcast Unveils Smart Home Platform
LAS VEGAS -- CES 2017-- At the CES show in Las Vegas, Comcast is offering a preview of its new smart home platform designed to simplify management and optimize the performance of a subscriber's home network. Dubbed a "digital home" solution, the new service streamlines the onboarding of devices to a WiFi network and provides a dashboard system for monitoring activity and setting network policies. Customers will be able to do things like ask who's currently on the home network, test WiFi signal strength and set times when connectivity is turned off for certain devices.
The service is free and the platform will work with both existing Xfinity wireless gateways and Comcast Corp. (Nasdaq: CMCSA, CMCSK)'s new Advanced Wireless Gateway. Also known as the gigabit gateway, the Advanced Wireless Gateway supports up to nine gigabits-per-second of throughput and has been teased by Comcast at events and in trials since 2015. (See Comcast Glosses Over Gig Gateway Launch.)
Officially, Comcast now says the Advanced Wireless Gateway will debut for all Xfinity customers at the end of the first quarter of 2017.
The idea of a whole-home networking solution is nothing new, nor is Comcast's desire to improve the broadband experience. What's less explicitly stated in the product launch, however, is a much more ambitious goal. Comcast wants to own the operating system for connected devices in the home.
"We think this is the X1 of the Internet," says Chris Satchell, EVP and a chief product officer at Comcast Cable.
Much like the company's X1 platform acts like an operating system for video, the digital home solution is Comcast's answer for managing broadband connectivity and any devices that require a network connection to work.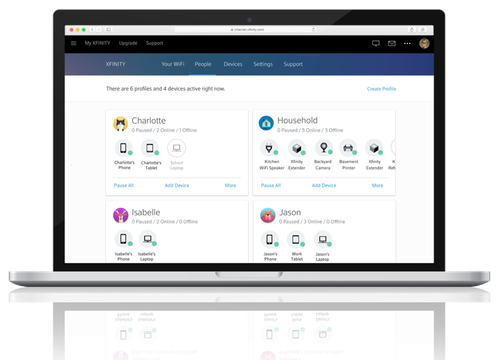 The main components of the system include software for zero-touch provisioning of new devices, the ability to connect groups of devices within profiles that can then be managed through policy settings, bandwidth logs, voice-control commands, added security functions and tools for troubleshooting. The solution is built for ongoing feature expansion, and Comcast plans to add new software and hardware integrations over time.
Also like X1, Satchell says Comcast would consider licensing its smart home platform to other service providers. The first priority is to get the solution rolled out to Comcast customers, but after that, Satchell says, "Yes I think that this is something we would definitely talk to our MSO partners to see if there's interest... I think it's definitely a conversation we'd be more than willing to have."
---
Want to know more about cable's wireless ambitions? Check out our cable WiFi channel here on Light Reading.
---
The introduction of the new digital home service is an important step for Comcast. At a time when competitors like Amazon.com Inc. (Nasdaq: AMZN), Apple Inc. (Nasdaq: AAPL) and Google (Nasdaq: GOOG) are attracting consumers to their respective software ecosystems with retail hardware, Comcast is attempting to prove it can build on the strength of its network to draw customers in to its own Xfinity software environment. With the launch of the Comcast digital home service, approximately 10 million Comcast subscribers will automatically be connected to the cable company's new platform. By the end of 2017, Comcast expects that number to grow to 15 million.
The technology for the digital home solution was developed through multiple avenues. The RDK-B software stack for broadband gateways, which Comcast helped to create, enables the functionality of the home networking software. (See RDK Expands Global Reach.)
Meanwhile, the software itself was built by a team led by Andrea Peiro, who co-founded and acted as CTO for wireless router company PowerCloud Systems, which Comcast acquired in 2014. (See Comcast Sweeps Up PowerCloud and Comcast Hints at New Home WiFi Plans.)
Initially, Comcast is ensuring that its own WiFi extenders and its wireless set-tops work with the zero-touch onboarding functionality of the home networking system. However, Satchell says it's already in discussion with third-party companies about enabling the feature on additional devices. Paired with the Xfinity Home service for home security and automation, and with products like smart light bulbs and thermostats, the Comcast home networking solution could control an entire household of connected products. That control starts with automated provisioning, but could also extend to functions like regulating access to devices and setting bandwidth priorities for different activities.
Satchell says Comcast wants consumers to be able to manage their home networks "without having to be the CIO of your own home." That would be a huge benefit to consumers, but it would also serve Comcast well. If the new system works, it should provide greater customer stickiness, newly available behavioral data for Comcast to analyze and new opportunities for revenue. And all of those benefits would accrue with very little capital investment. Comcast would simply be making the most of the one asset it's already invested heavily in: the network to the home.
— Mari Silbey, Senior Editor, Cable/Video, Light Reading
PARTNER PERSPECTIVES
- content from our sponsors