Vodafone Ups Guidance on European Growth
Vodafone has sharply raised its profitability guidance for the current fiscal year after seeing better conditions in Europe than it had previously expected.
The UK-based operator, which runs networks worldwide, is now anticipating a 10% organic increase in earnings before interest, tax, depreciation and amortization (EBITDA) for the fiscal year ending in March 2018, having originally guided for growth of between 4% and 8%. The revised forecast implies EBITDA of between €14.75 billion ($17.28 billion) and €14.95 billion ($17.52 billion).
The operator is also now guiding for free cash flow (FCF) of more than €5 billion ($5.9 billion). It previously said FCF would be "around" the €5 billion mark.
The update sent Vodafone's share price up 5% to 227 pence during morning trading on the London Stock Exchange.
In an earnings statement for the first half of the fiscal year, the company said that underlying revenue growth across Europe had been stronger than expected. It also expects to benefit after French telco Iliad (Euronext: ILD) delayed its launch of a mobile network in Italy.
Vodafone Group plc (NYSE: VOD) reported a 4.1% year-on-year drop in revenues for the first six months of its 2018 fiscal year, to about €23.1 billion ($27.1 billion), but said that organic service revenues were up 1.7%. It blamed the decline in reported sales on the deconsolidation of its Dutch business, which now forms part of a joint venture with cable operator Liberty Global Inc. (Nasdaq: LBTY), as well as foreign currency movements.
Pressure on the business also came from within India, where Vodafone reported a 13.4% drop in revenues, to around €2.6 billion ($3.1 billion). Like other players in the market, Vodafone India, the country's second-biggest operator, has been hurt by aggressive competition from Reliance Jio , a new entrant that began offering free and heavily discounted services to Indian consumers about a year ago.
Vodafone India is set to merge with Idea Cellular Ltd. , the country's number-three operator, in a deal that will create a new market leader. Earlier this week, the two companies revealed they would sell their standalone tower assets to US infrastructure specialist American Tower Corp. (NYSE: AMT) in an effort to strengthen their balance sheets. (See American Tower Becomes an Indian Power Through $1.2B Deal With Vodafone, Idea and Vodafone, Idea Strike $23B Deal to Form India's Biggest Telco.)
---
For all the latest news from the wireless networking and services sector, check out our dedicated mobile content channel here on Light Reading.
---
Despite the pressure points, Vodafone hailed good progress on cost-cutting and efficiency measures, with operating profits rising 32.5%, to about €2 billion ($2.3 billion). As part of a program called "Fit for Growth," Vodafone has been trying to boost margins through savings. It has also now launched a new initiative called Digital Vodafone that is similarly aimed at shoring up profitability. "Using advanced digital technologies, our ambition is to generate incremental revenues while reducing net operating costs," said the operator in its earnings release.
The initiative will see Vodafone make greater use of data analytics to improve commercial and technology investment decisions. The operator also said it would continue to work on "automating" its operations, which suggests that staff cuts are planned.
Vodafone has not published details of employee numbers in its interim reports, but its cost-cutting efforts had limited impact on overall headcount last year. Employee numbers fell from 111,684 the fiscal year ending March 2016 to 111,556 a year later, according to Vodafone's annual report. Other major operators have cut much deeper. (See Efficiency Drive by Major Telcos Has Claimed 74K Jobs Since 2015.)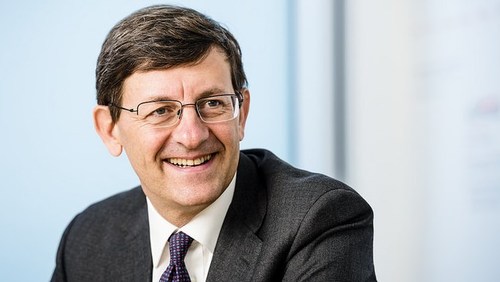 The operator's strategy has become increasingly influenced by the need to provide both fixed and mobile services in the countries in which it operates. By acquiring and building its own fiber networks, Vodafone can offer a broader range of services to customers and also better support its backhaul needs as the introduction of advanced 4G and, ultimately, 5G services ramps up the volumes of data flowing to and from its access networks. (See Europe's Backhaul Black Hole Looms Above 5G.)
In the past few weeks, Vodafone has announced plans to spend €2 billion ($2.3 billion) on the rollout of fiber-based "gigabit" networks in Germany. In Portugal, meanwhile, it has indicated that it will share fiber-to-the-home (FTTH) networks with cable operator NOS. (See Vodafone Portugal to Boost FTTH Footprint With NOS Deal and Vodafone to Pump €2B Into German Gigabit Networks.)
Just last week, Vodafone also unveiled details of a partnership with the UK's CityFibre , which is building high-speed fiber networks in a number of UK towns and cities. Under that deal, Vodafone has the option of developing FTTH networks for up to 5 million UK households by 2025. The arrangement comes as a blow to BT infrastructure division Openreach , which has been on the lookout for FTTH partners. (See Eurobites: Vodafone Goes Hand in Glove With CityFibre, Lays Down the Gauntlet to BT and Openreach Needs Fiber Partners for UK Rollout, Says Chairman.)
Group CEO Vittorio Colao made reference to the fiber broadband access initiatives, as well as expanded IoT service plans, in his earnings statement: "In the second half of the year we will continue to implement our strategic initiatives, including fibre infrastructure expansion in Germany, Portugal and the UK; our entry into the consumer IoT market with the launch of 'V by Vodafone'; and the 'Digital Vodafone' programme designed to enhance our customers' experience, increasing revenues and cost efficiency."
— Iain Morris, News Editor, Light Reading
PARTNER PERSPECTIVES
- content from our sponsors