With Vodafone India and Idea Cellular now having completed the biggest merger in the history of India's telecom sector, Bharti Airtel Ltd. (Mumbai: BHARTIARTL) is no longer the largest mobile service provider in India, a massive market of almost 1.15 billion mobile connections. (See Vodafone India, Idea Cellular Complete Merger .)
The newly merged entity, called Vodafone Idea Ltd. , boasts 408 million active mobile subscribers at the end of June 2018, which, according to data from the country's regulator, the Telecom Regulatory Authority of India (TRAI), makes it the country's largest service provider by user numbers. In the 12 months to June 30 this year, Vodafone India and Idea combined generated revenues of INR585 billion (US$8.26 billion) and EBITDA of INR107 billion ($1.5 billion).
Based on the end-of-June data, Vodafone India and Idea Cellular had almost identical market shares -- 19.4% and 19.2% respectively -- and together now command almost 39% of all active mobile connections in India (and a 32% share of revenues). That puts it ahead of former long-time market leader Bharti Airtel, which has a market share of almost 30%, and Reliance Jio , which already boasts a market share of 18.8% after less than two years of operation. Those three now dominate the Indian market
The merged entity will be the market leader in nine of India's 22 circles (service areas) and will continue to use both the Vodafone and Idea brands. It boasts India's largest voice network, with more than 200,000 unique sites to cover around 92% of the population. Further, Vodafone India will have a spectrum portfolio of around 1850MHz, more than either Bharti or Jio.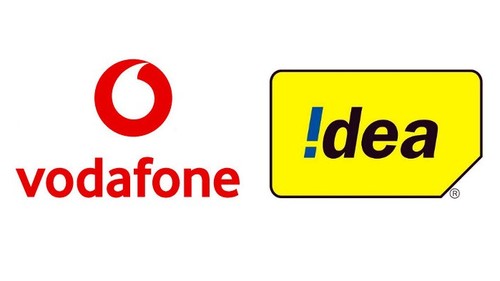 The two telcos announced their mega-merger last year after their market share was severely dented following the launch of 4G services by Jio in September 2016.
Together the two companies will be better placed to fight growing competition from both Jio and Airtel and be able to improve their financial position: Vodafone Idea will be able to generate INR140 billion ($1.97bn) in annual "synergies," including operational expenditure synergies of INR84 billion ($1.1bn), according to the merger press statement.
Jio has emerged as the third-largest service provider in the country and recently announced the launch of JioGigafiber, its high-speed fiber-based broadband service, and plans to enter the enterprise services sector. (See India's RJio Charges Into Fiber, Unveils New 4G Phone and Reliance Jio President Mathew Oommen on India's 4G Phenomenon.)
Newly formed Vodafone Idea has its work cut out to remain competitive and will need to come up with an innovative strategy to fend off pressure from Jio: Vodafone has developed a significant enterprise business with 200,000 customers and will be keen to add to that total, not lose any to Jio.
"Today, we have created India's leading telecom operator. It is truly a historic moment … As Vodafone Idea, we are partnering in this initiative by building a formidable company of international repute, scale and standards," stated Kumar Mangalam Birla, chairman of the Aditya Birla Group and Vodafone Idea in a press statement issued today. The Aditya Birla Group will own a 26% stake in the combined company, while Vodafone Group will hold a 45.2% stake.
The merger marks the end of a wave of consolidation in the Indian telecom market, which now looks set for a period of greater stability, though intense competition. "India telecoms has witnessed a whirlwind past two-to-three years," says Prashant Singhal, Global Telecoms and Technology, Media and Telecommunications Emerging Markets Leader, at EY, but with three large operators now dominating about 87% of the market, and with state-owned BSNL commanding about 10% of the remainder, "stability is likely to set within six to twelve months," says Singhal.
— Gagandeep Kaur, contributing editor, special to Light Reading