Vodacom Revenues up on Smartphone Sales
South Africa's Vodacom has flagged impressive growth in revenues for the April-to-June quarter thanks to rising sales of smartphones and growth in customer numbers across the continent.
Vodacom Pty. Ltd. saw group revenues rise by 7% in its first quarter, to about 19.6 billion South African rand (US$1.56 billion), compared with the same period of 2014, adding 3.9 million customers over the year to bring its total to 63.5 million.
The operator -- which is majority owned by the UK's Vodafone Group plc (NYSE: VOD) and operates networks in several African countries -- does not report details of profitability on a quarterly basis.
Facing a slowdown in its mainstream voice business, Vodacom has been investing heavily in the rollout of mobile broadband networks, pumping about ZAR2.4 billion ($190 million) into capital expenditure in the quarter.
The figure looks modest, given that Vodacom spent a total of ZAR13.3 billion ($1.07 billion) last year, but is clearly helping to support a sharp rise in data usage among subscribers.
Overall data revenues grew by 35.2%, to ZAR4.8 billion, and now account for 30.9% of total service revenues.
Particularly encouraging was a return to service revenue growth in the South African market following four consecutive quarters of decline caused largely by regulatory cuts to mobile termination rates.
In a statement, Vodacom said its commercial and operational performance had improved in South Africa during the quarter thanks to "a more stable pricing environment and accelerating data growth."
"One positive in South Africa is that voice revenue is still declining, but data is pretty much making up for that decline now," says Guy Zibi, chief analyst at Xalam Analytics, Heavy Reading 's Africa and Middle East research unit.
While South Africa still accounts for nearly 80% of Vodacom's revenues, the operator is also witnessing strong growth in Africa's less penetrated markets.
Revenues from what Vodacom describes as its "international" business rose by 14%, to ZAR4.1 billion ($330 million), compared with the first quarter of 2014.
The customer base outside South Africa grew by 11.5% in the year to June 2015, reaching 30.2 million subscribers.
---
For all the latest news from the wireless networking and services sector, check out our dedicated mobile content channel here on Light Reading.
---
Even so, there is bound to be concern about Vodacom's profitability given the amount it is spending on network rollout and its performance last financial year, when EBITDA shrank by 2.1% -- and operating free cash flow fell by 27.9% -- despite a 2.1% increase in revenues.
Recent research from Xalam Analytics suggests the earnings outlook for African operators is rather bleak, with many players in the region experiencing a contraction in operating income over the past three years.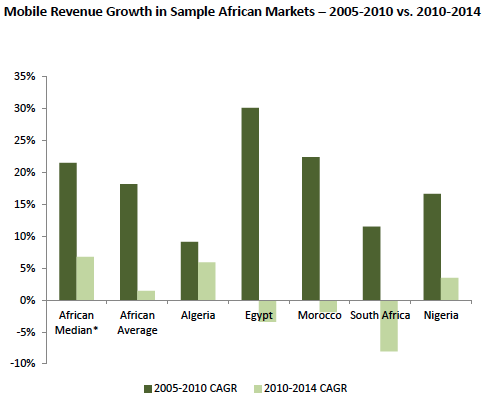 In a report entitled The Future of African Mobile Profitability, Xalam notes the median EBITDA margin for a sample of African operators has fallen from 43% in 2008 to 39% today, with most of the decline occurring in the past three years.
At 34.8%, Vodacom's EBITDA margin last year was low by comparison with these figures.
Despite soaring take-up of mobile data services, Xalam has also expressed concern that data growth has not yet led to any "material uplift" in top-line mobile revenues among African operators.
"The fundamental question now at the heart of the African business model is whether the data boom will ultimately translate into higher overall revenue and margin growth for mobile operators," say the report authors.
— Iain Morris,

, News Editor, Light Reading
UPCOMING LIVE EVENTS
June 6-8, 2023, Digital Symposium
June 21, 2023, Digital Symposium
December 6-7, 2023, New York City
All Upcoming Live Events
PARTNER PERSPECTIVES
- content from our sponsors