VEON seems to have become a stark illustration of what can happen when a digital transformation project goes wrong.
Headquartered in Amsterdam, and serving nearly a quarter of a billion customers in Russia and various emerging markets, VEON was last year gushing about its rollout of new digital services and ambitious rebranding. (See VEON's Digital Overhaul Much More Than Rebranding.)
But following earnings disappointments, cuts to thousands of jobs and the sudden departure of its CEO in March, the operator formerly known as VimpelCom has this week announced a dramatic restructuring and waved goodbye to a number of senior executives, including Christopher Schlaeffer, the man in charge of its digital strategy.
Other executives leaving in the management shake-up include Peter Chernyshov, the head of Eurasia and CEO of Ukraine's Kyivstar, and Mark MacGann, VEON's chief corporate and public affairs officer.
VEON says it is looking to replace Schlaeffer, but not Chernyshov or MacGann. As part of a broader restructuring, all of the company's operating units will now report directly to Kjell Morten Johnsen, VEON's chief operating officer. Aleksandr Komarov, the CEO of Beeline Kazakhstan, will take up the additional position of Kyivstar's CEO.
The latest upheaval comes several months after the resignation of former CEO Jean Yves Charlier amid shareholder gloom about VEON's efforts to move away from its traditional operating model. Ursula Burns, VEON's executive chair, assumed Charlier's responsibilities when he quit in March. (See VEON CEO Quits Amid Investor Gloom.)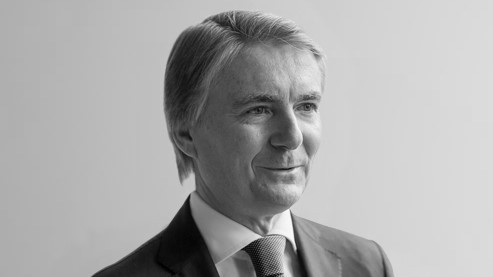 Hit by losses at various joint ventures and associates, VEON saw its total net loss widen to about $105 million in the January-to-March quarter, from just $5 million a year earlier. That development came after the operator slashed about 2,000 jobs, or nearly 5% of its total workforce, in 2017. Its first-quarter revenues fell 1.4%, to about $2.25 billion, compared with the year-earlier period.
While the company's share price has gained nearly 15% on the US Nasdaq since March, to close at $3.03 on July 19, it has lost nearly a quarter of its value in the last year.
Designed to let customers access services from VEON as well as content partners such as MasterCard, a new mobile app was used by just 8.3 million of VEON's customers globally at the end of last year, following a hard launch in September.
VEON provided no update on usage in its first-quarter report and made zero mention of other strategic investments, including a data management platform, a new-look business support system (BSS), an enterprise support system and its network virtualization initiative.
"These had been a key part of the results presentations in the third and fourth quarters of 2017," says James Crawshaw, a senior analyst with Heavy Reading.
Crawshaw says Charlier's abrupt departure in March was a sign VEON was in trouble but feels the executive had insufficient time to work on his plan. "Charlier had been in the job for three years, which isn't really long enough to see through a transformation of this scale," he says.
While the latest management restructuring might help to make VEON a leaner organization, Crawshaw regards Schlaeffer's departure as bad news on the digitalization front.
"The latest management changes seem to strip away a layer of regional management between the country operations and the Amsterdam headquarters," he says. "That will take out a little cost but is unlikely to have any impact on the strategic initiatives on which VEON seems to have gone quiet. The departure of the group chief commercial and digital officer [Schlaeffer] does not bode well for the digitalization effort."
---
For all the latest news from the wireless networking and services sector, check out our dedicated mobile content channel here on Light Reading.
---
On the networks side, recent US sanctions against ZTE Corp. (Shenzhen: 000063; Hong Kong: 0763) have been a further source of concern for investors. "VEON ran afoul of the US ban on ZTE as a number of its operations were reliant on the Chinese vendor," says Crawshaw.
That ban, which stopped ZTE from buying US components and forced it to cease operations, led to network-related problems at VEON's subsidiaries in Ukraine, Bangladesh and Pakistan, according to a Reuters report that cites sources at the operator.
During an earlier interview, Bengt Nordström, the CEO of the Northstream consulting company, said the US moves were an "alarm bell" for telcos pursuing a single vendor strategy. "You need a second vendor you can ramp up if something goes wrong," he told Light Reading in May.
The Reuters report indicates that VEON has now decided to "second source" its network gear. It has also recently sold its stake in Wind Tre, one of the operating companies reliant on ZTE, to joint venture partner CK Hutchison.
Crawshaw describes that divestment as a "smart move" given the threat of competition from Iliad, which launched services in Italy less than two months ago and has already captured more than 1 million customers. Wind Tre, meanwhile, has substituted Ericsson AB (Nasdaq: ERIC) for ZTE on some network projects.
However, there is also a question mark over a $1 billion BSS deal that VEON struck with Ericsson in June 2016. Under that contract, VEON (then VimpelCom) said it would shift most of its BSS over to a cloud platform in the subsequent two to three years. (See VimpelCom Aims for BSS Overhaul by 2019.)
The project is understood to have fallen behind expectations and there has been no mention of it in recent earnings reports and press releases. VEON did not respond when approached by Light Reading and asked for a status update.
Reporting second-quarter results earlier this week, Ericsson revealed that its digital services unit, the part of the company that sells BSS technology, had suffered an 11% year-on-year drop in sales, to about 8.8 billion Swedish kronor ($1 billion), and seen operating losses widen to about $2.4 billion, from $2.2 billion a year earlier. (See Ericsson Back in Profit After Fierce Cuts & 5G Action.)
Ericsson is renegotiating or scrapping digital services contracts it deems unprofitable, but has not indicated which customer deals might go.
Its plan is to complete or exit 50% of 45 digital services contracts under review. It claimed to have addressed 16 of these deals by the end of June. "We are encouraged by the improvements but there is still a lot of work to do," said Carl Mellander, Ericsson's chief financial officer, during an earnings call with analysts.
— Iain Morris, International Editor, Light Reading