While operators worldwide are in a Dad's Army-like panic about trailing in 5G, the Russians are concealing any excitement about the next-generation mobile technology. MTS, the country's biggest operator, is not even that bothered about reports the 3.5GHz spectrum band -- a popular 5G choice in other countries -- has been reserved for the military and not telecom.
In a blow to Ericsson and Nokia, MTS has signed a 5G "cooperation agreement" with China's Huawei and said in its latest earnings report it would start "mapping out and deploying" 5G technology. But it seems to be in no rush to launch services or provide them at scale.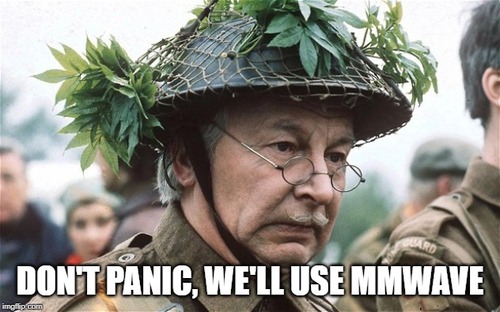 Quizzed about spectrum uncertainty during the earnings call, CEO Alexey Kornya said, according to a Seeking Alpha transcript: "We just don't feel that there is right now a demand … so there is no strong need on building up aggressively 5G." Even if there were more clarity about the spectrum situation he would not start pumping funds into a major 5G deployment, he insisted.
The operator is budgeting for 90 billion Russian rubles ($1.4 billion) in overall capital expenditure this year, up from RUB86.5 billion ($1.3 billion) in 2018. Funds have been earmarked for a variety of projects, including 4G upgrades in Russia and Ukraine and investment in digital services. 5G gets a mention, too, with MTS likely to introduce its first commercial services at the end of this year.
But the next-generation mobile technology is unlikely to be the main reason for the increase, judging by Kornya's remarks. And new Russian legislation is forcing MTS to spend money elsewhere. Under the so-called Yarovaya Law, adopted last year, telcos are required to store all voice calls and text messages starting on July 1, 2018 as well as all data communications starting on October 1, 2018. That means investment in additional storage capabilities, says MTS. And it puts the overall cost at about RUB50 billion ($760 million).
If revenues this year grow by the midpoint of the projected 4-6% increase, capital expenditure should equal about 18% of sales. That figure tallies with capital intensity levels at European operators that have already started offering 5G services and means MTS could not reasonably be accused of shirking its investment responsibilities.
---
Want to know more about 5G? Check out our dedicated 5G content channel here on
Light Reading.
---
Its priorities clearly lie in areas other than 5G, though. And MTS seems to be doing a half-decent job of diversification without that technology. While its international peers occupy themselves with 5G smartphone launches and higher-speed connectivity, it has integrated a banking business into its Russian operation that recorded RUB6.9 billion ($100 million) in revenues in the second quarter. Its systems integration business, meanwhile, reported a 79.4% increase in sales, to around RUB2.7 billion ($41 million), compared with the year earlier period.
If these services still account for a small share of total revenues, they have fueled recent growth in Russia, where MTS continues to generate more than 90% of its sales. In the second quarter, Russian revenues grew 8.4%, to RUB115.3 billion ($1.8 billion), compared with the year-earlier period. Group sales rose 9.4%, to RUB125.1 billion ($1.9 billion), while operating income was up 5.5%, to RUB29.1 billion ($440 million).
Another positive development is that about 17.7 million of the operator's 78.1 million Russian mobile customers are now using the MyMTS app, up from just 12 million a year ago. "It's going to grow definitely in the third quarter, but I see this as a very healthy growth of MyMTS in the second quarter, based not on money spent on marketing, but on features," Kornya told analysts.
The black spots included an 11% drop in net profit, to RUB12.7 billion ($190 million), which MTS blamed on "higher finance costs and other expenses." In addition, at the free cash flow level, MTS registered a loss of RUB32.9 billion ($500 million) for the first six months, compared with a profit of RUB30.8 billion ($470 million) a year earlier, because of fines it paid the US Department of Justice after it was charged with bribery in Uzbekistan. It is one of several operators that have been hit with penalties because of misdemeanors in the central Asian region.
Despite the outlook for healthy sales growth this year, and the operator's diversification efforts, investors continue to treat MTS like any other boring telecom stock. Its share price was up 0.3% in Moscow at the time of writing, to RUB256.1 ($3.88), and is just 1% higher than it was this time last year.
Related posts:
— Iain Morris, International Editor, Light Reading