Telekom Austria has swung to a net loss for the 2014 financial year, with restructuring costs and weak sales results in some of its biggest markets taking a heavy toll on the earnings performance.
The former state-owned business, now 60% owned by Latin American giant América Móvil S.A. de C.V. , operates networks across a number of central and eastern European markets where competitive, economic and regulatory conditions are tough.
The operator reported a net loss of €185.4 million (US$283.5 million) from a small net profit of €52.1 million ($79.7 million) in 2013, and flagged a 4% drop in revenues, to €4 billion ($6.1 billion), over the same period.
Although Telekom Austria Group managed to boost sales in the smaller markets of Belarus, Macedonia and Serbia, it saw revenues in its domestic market fall by 7% on a year-on-year basis, to €2.5 billion ($3.8 billion).
Telekom Austria blamed the effects of regulation and a decline in equipment revenues for the setback, but the recent arrival of new MVNOs in the Austrian market appears to have hit the incumbent hard. Telekom Austria finished the year with just 5.4 million mobile customers -- 5.1% less than at the end of 2013.
Revenues declined at a similar rate in Bulgaria, to €371 million ($567 million), and by 2.8% in Croatia, to €378 million ($578 million). In both markets, the economic and regulatory environment remains harsh.
Telekom Austria says it will carry out extensive cost cutting this year with the aim of restoring profitability. The operator plans to achieve total gross savings of €90 million ($138 million), but has indicated that employee restructuring costs in Austria could amount to as much as €40 million ($61 million).
Despite its various challenges, Telekom Austria issued relatively bullish guidance of 2% growth in revenues for 2015, arguing that further investments in the rollout of 4G and fiber networks will help to boost sales in Austria.
Even so, overall capital expenditure is expected to fall to between €700 million ($1.07 billion) and €750 million ($1.15 billion) in 2015, down from €757 million ($1.16 billion) last year, and Telekom Austria is facing new spectrum auctions in Bulgaria, Serbia and Slovenia later this year.
---
For more fixed broadband market coverage and insights, check out our dedicated broadband content channel here on Light Reading.
---
Telekom Austria spent more than €1 billion ($1.5 billion) on new frequency licenses in its domestic market in 2013, as a result of which capital expenditure soared to nearly €1.8 billion ($2.75 billion) that year.
Spectrum sales will undoubtedly prove far less costly in Bulgaria, Serbia and Slovenia but could still add to the pressure on Telekom Austria.
On the plus side, the backing of América Móvil -- which became Telekom Austria's majority shareholder last year -- should give the Austrian player additional flexibility to pursue its investment strategy.
Thanks to a capital increase by América Móvil in November, Telekom Austria had just €2.7 billion ($4.1 billion) in net debt on its balance sheet at the end of 2014, compared with €3.6 billion ($5.5 billion) a year earlier. That had the effect of reducing the operator's net-debt-to-EBITDA ratio from 2.8 to 2.1 over the same period.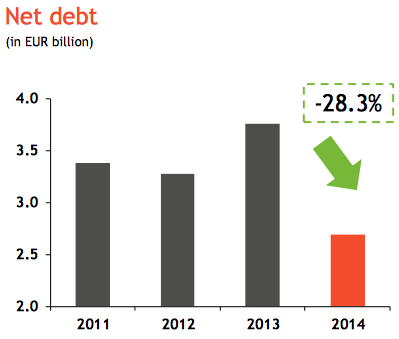 Last month, América Móvil suggested it could channel additional funds into Telekom Austria to support takeover activities in central and eastern Europe. Financial analysts believe the Latin American player wants to use Telekom Austria as a vehicle for expanding its presence in the region.
Telekom Austria's share price had fallen by 1% on the Vienna Stock Exchange in early-hours trading.
— Iain Morris,

, News Editor, Light Reading