MTS's Russian Resolution

Comment (1)
Upheaval in Ukraine
However resilient the telecoms sector may be in the teeth of recession, MTS will struggle to maintain this momentum in 2015 as the economic climate deteriorates. In its third-quarter report, MTS blamed a sharp fall in voice traffic in Ukraine on "macroeconomic factors", as well as the difficulty of providing services in the east of the country, where Russia-backed troops are still battling Ukrainian forces. Revenue growth, it seemed, owed everything to "seasonally strong roaming traffic" besides higher usage of international calling services.
MTS also claims to have lost its Crimea business as a result of the conflict between Russia and Ukraine. In somewhat murky circumstances, MTS Ukraine (NYSE: MBT) ceased operations in Crimea -- now a part of the Russian Federation -- in mid-2014. Reports suggested the operator's licenses had been transferred to a Russian company called K-Telecom, rumored to be a front for MTS Russia, but Latsanych vehemently denies that MTS has any presence whatsoever in the breakaway territory.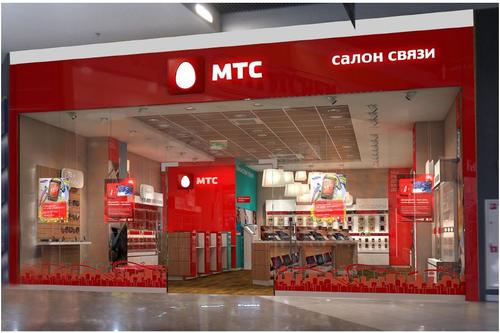 Rules introduced by the National Bank of Ukraine in September, and aimed at stabilizing the national currency, have also stopped MTS from taking dividend yields out of the country. That may not, however, be a pressing concern this year. Despite suggestions that Ukrainian authorities have sought to prevent Russian companies from participating in Ukraine's long overdue 3G spectrum auction, MTS was approved as a 3G bidder on January 20, along with 2G rivals Kyivstar GSM and Astelit (which also have Russian shareholders). "We would need to pay for a 3G license and buy equipment this year and the money we have in Ukraine will be used for this purpose," says Latsanych.
Domestic downturn
In Russia, the big challenge this year will lie in persuading customers to buy pricier smartphones amid mounting economic woes, especially as Russia's mobile operators do not subsidize devices.
In spite of the deepening malaise, the take-up of mobile data services fueled an increase in customer spending in the third quarter. Yet only 6% of smartphone customers are equipped with 4G devices, and the worst of the macroeconomic pain may be yet to come. "Incomes are going to be squeezed by the fall in the value of the ruble pushing up the cost of imports," says Stephen Wilson, an analyst with market research firm Analysys Mason. Latsanych concedes there is a risk that average handset prices and device shipments will fall this year.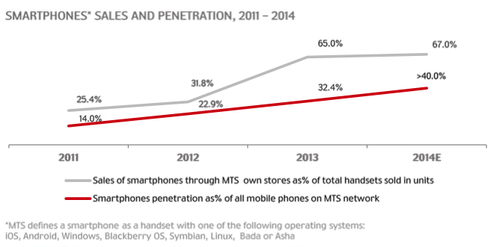 As a result, MTS has relatively little interest in procuring high-end smartphones from the likes of Apple (with which it does not even have a distribution agreement) and Samsung, preferring to focus on developing its own-branded range of devices in partnership with low-cost Chinese manufacturers, including Huawei Technologies Co. Ltd. , ZTE Corp. (Shenzhen: 000063; Hong Kong: 0763) and Alcatel OneTouch (TCL Communication) . The cheaper those makers can produce 4G models, the better the short-term outlook for the operator's 4G business.
Next page: 4G and capex plans