Also in today's EMEA regional roundup: Ooredoo lands in Sicily; Sky and Discovery settle their differences; mobile research revealed; some better news for refugees.
Organic revenue at Norway's Telenor Group (Nasdaq: TELN) inched up 0.6% to 33.14 billion Norwegian kroner ($4.04 billion) in the fourth quarter, thanks in large part to increasing data consumption in Pakistan, Bangladesh and Myanmar. Intense competition in Telenor's Thai, Malaysian and Danish markets, however, kept the numbers down. EBITDA (earnings before interest, tax, depreciation and amortization) was down slightly, from NOK10.86 billion ($1.32 billion) in the year-earlier period to NOK10.79 billion ($1.32 billion) this time around. Last month the operator announced a management shake-up as a prelude to a full restructuring exercise that will kick off on March 1. (See Eurobites: All Change at Telenor's Top Table.)

Table 1: Telenor's Q4 (NOK million)

Q4 2016
Q4 2015
FY 2016
FY 2015
Revenues
33,144
33,487
131,427
128,175
Organic revenue growth (%)
0.6
2.3
1.1
4.7
EBITDA before other income and other expenses
10,793
10,860
46,483
44,197
EBITDA before other income and other expenses/Revenues (%)
32.6
32.4
35.4
34.5
Profit after taxes and non-controlling interests
2,286
-2125
2,832
3,414
Capex/Revenues (%)
20.8
22.2
20
19.7
Mobile subscriptions – Change in quarter/Total (mill.)
3.4
6.6
214
203
Source: Telenor
Ooredoo 's Tunisian subsidiary has established a new point of presence at Telecom Italia Sparkle 's hub at Palermo on the island of Sicily. The move is the latest fruit from the strategic agreement that was signed in April 2016, and it broadens Ooredoo Tunisia's international reach, providing direct access to the 19-cable ecosystem that lands in Sicily and connects Europe to Africa, the Middle East, Asian and North America.
Sky , the UK-based pay-TV giant, has settled its differences with Discovery, which had threatened to pull its 12 channels from Sky on January 31 over a fees dispute. As the BBC reports, no financial details have been released but the new agreement will keep Discovery's channels -- which include top tennis hub Eurosport -- on Sky for "years to come," according to the US broadcaster.
BICS , the wholesale carrier arm of Belgium's Proximus , has released research showing that more than 140 countries and 400 operators now offer LTE roaming services. The number of these operators using BICS' IP exchange platform has grown by 115% year-on-year.
More research: the Organization for Economic Cooperation and Development (OECD) has revealed that 12 countries within the 35-country OECD area now lie above the 100% mobile penetration threshold, with Japan topping the list. See the chart below and the OECD broadband portal for more details.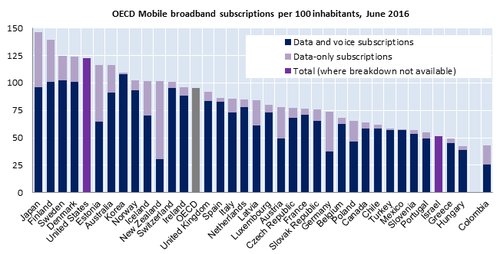 Deutsche Telekom AG (NYSE: DT)'s Open Telekom Cloud and DSI vCloud have been certified for data privacy and data security chops by DEKRA, an independent testing organization that knows about such things. Specifically, the German giant's cloud services meet the requirements of the global standards ISO 27017 (for data security) and ISO 27018 (for data privacy).
And finally, in a world that is becoming an increasingly unfriendly place for refugees, Eurobites is heartened to hear that Deutsche Telekom has extended its refugees.telekom.de website, which, as its name suggests, is aimed at new arrivals from war-torn regions, with a central information portal, handbookgermany.de. The portal draws on the services of a multilingual editorial team (that includes exiled journalists) to provide critical everyday information for those who need it.

— Paul Rainford, Assistant Editor, Europe, Light Reading