Ian Small, CEO of Communications Services and Product Innovation at Telefónica, is not a telco guy.
But in his role at one of the world's largest telcos, which has about 320 million customers and employs about 120,000 people globally, being an outsider is an advantage.
Small, who was previously CEO of the WebRTC-based video communications startup TokBox, which Telefónica SA (NYSE: TEF) acquired in October 2012, describes himself as an "innovation guy." (See Telefónica Digital Acquires TokBox.)
And he brings a Silicon Valley attitude to the Spanish giant, which he characterizes as, "if I was going to make trouble here, take an established line of business and disrupt it, how would I do that?"
His group comprises various new communications services including: calling application TU Go on O2's network in the UK; the Spanish MVNO and social network Tuenti; the WebRTC subsidiary TokBox; and a unit called Future Communications, which recently hatched the WebRTC-based Firefox Hello video chat feature. In addition, he is also responsible for product innovation across all digital services in Telefónica's I+D research and development division. (See Telefónica: Tu Me Has Got To Go and What WebRTC Means for Telcos.)
In other words, he's responsible for creating the kinds of disruptive services and applications that typical telcos would view as threats to their traditional revenues. But with Small's Communications Services and Product Innovation group of 1,000 people developing such services either in-house or through partnerships, Telefónica does not appear to be typical in that way.
"When you're in an environment that is changing at the speed that the communications space is changing at, there are always going to be people, especially inside an entrenched competitor, who just want it to stay the way it is," says Small. "But it's not and there's a complete, clear-eyed understanding of that at the very highest levels of Telefónica."
He adds: "That's why we're trying to disrupt and why they have me doing this job, because, honestly, I don't know that much about telcos. I've just worked at one for the past year and a half. I'm not even the guy who's been attacking the telco industry from the outside for the last 20 years."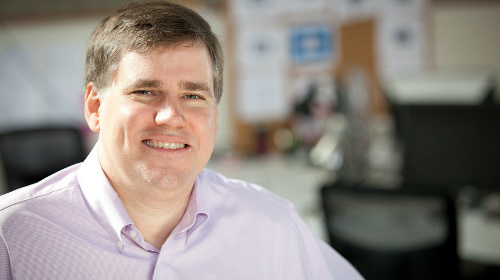 Small's unit is one of many that falls under the digital services remit of Chief Commercial Digital Officer Eduardo Navarro since the operator restructured its business in March last year to bring its formerly independent Telefónica Digital business in-house. While Navarro's group comprises a wide variety of digital activities, such as video services, big data, machine-to-machine (M2M), security, health and financial services, the Communications Services group is focused on core communications -- that is, voice, text and video. (See Telefónica Walks the Digital Tightrope.)
According to Small, all of the new communications services developed in his group involve significant innovation from within Telefónica. "Everything we're doing on the communications side is focused on innovating and creating customer value through creative use of technology to create new capabilities and the ability to access your communications services in new and different places," he says.
Next page: Where failure is not a bad word