What Happened to Verizon Exponent?
It was less than seven months ago that Verizon launched a portfolio of wholesale platforms under the umbrella name Exponent, with the goal of selling the company's technology and expertise within the areas of big data, the Internet of Things, media services, Internet services, and cloud computing and storage to other telecom carriers.
But now it appears Exponent has expired.
Not only are there no recent updates on the business initiative, but a former website and Twitter account for Exponent have both gone dark. Further, Guru Pai, who was quoted in the initial Exponent launch release in February as an executive vice president and chief product officer at Verizon Communications Inc. (NYSE: VZ), is nowhere to be found on the company's web page listing its top leadership personnel. That could be due to how Verizon reports its executive hierarchy publicly, but the fact that Pai appears nowhere on the site isn't encouraging. (See previously Verizon's Exponent Exports Its Expertise.)
Light Reading approached Verizon about the status of Exponent, but the company has not yet responded to the request for comment.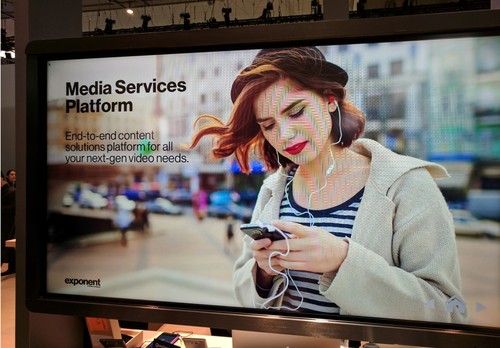 The apparent disappearance of Exponent also comes as there are questions about Verizon's IPTV service, which was supposed to have launched by now as an upgrade to Fios, and which was also going to be sold as a white label offering under the media services component of the wholesale business. (See Verizon Beta Tests IPTV, Stays Mum on Launch.)
Verizon has been trialing its IPTV system with beta customers for a few months now, but hasn't announced a commercial launch date. (See Verizon Beta Tests IPTV, Stays Mum on Launch.)
Reactions to the trial on a user forum over at DSLReports have been mixed. One self-reported user has complained of connection issues and TV recording problems, but others have said the service, or at least parts of it, have been working well.
Meanwhile, one industry source told Light Reading that Verizon held a town hall meeting recently where it said the company would be moving away from developing its own products, like the IP set-tops for its IPTV service. Light Reading has not confirmed that intention, but if true, it would take Verizon back to its more traditional approach of outsourcing product development to partners, particularly around consumer hardware. It might also signal less interest in the wholesale market if Verizon isn't overseeing its own product design and production.
---
Want to know more about video and TV market trends? Check out our dedicated video services content channel here on Light Reading.
---
If Verizon is killing off Exponent, that would make it a very short-lived program. However, the move wouldn't mean that the platforms underneath Exponent are going away. For example, while the telco's IPTV technology may be suffering through some glitches, its digital media services business, which now lives under the Oath brand name with Aol and Yahoo, is still cranking away. (See Verizon DMS Inks Deal With Stadium Digital and Verizon, Comcast Prep for TV Ad Tech Wars.)
And Verizon's IoT platform, known as ThingSpace, is growing thanks to several acquisitions and the launch of the company's 5G LTE Cat M1 IoT network. (See Verizon Buys Smart City Player Sensity and Verizon Takes IoT Network Nationwide.)
Verizon may simply have decided that maintaining Exponent as a dedicated wholesaling business unit wasn't worthwhile. As big-company reorganizations go, it's not that surprising, but it does create a contrast between Verizon and rivals AT&T Inc. (NYSE: T) and Comcast Corp. (Nasdaq: CMCSA, CMCSK). AT&T's recent acquisition of Quickplay put it into the video platform wholesale business, while Comcast has created its own Technology Solutions division for licensing video and networking technology out to other operators. (See AT&T, Verizon Want to Wholesale IPTV and Comcast's Canadian Takeover Continues.)
On the other hand, Verizon is wholesaling its own wireless network back to Comcast and Charter Communications Inc. . So maybe the moral of the story is that no one company is going to be good at all things.
— Mari Silbey, Senior Editor, Cable/Video, Light Reading
PARTNER PERSPECTIVES
- content from our sponsors