Haste Sounds Out ISPs on Low-Latency Service for Gamers

Comment (0)
After cutting its teeth on a direct-to-consumer offering, an Atlanta-based startup called Haste is holding talks with cable operators and other ISPs about how to package and sell co-branded offerings centered on its low-latency service targeted to PC gamers.
In addition to giving cable operators a way to differentiate their broadband services and appeal to a passionate and vibrant demographic, such a partnership could also open up a new revenue stream for service providers.
"We're very early stage," Lynn Perry, Haste's CEO, said with respect to the company's discussions with cable operators and other ISPs. "But we're having some promising conversations."
Haste recently had an opportunity to demonstrate its service and technology (more on that later) to MSOs during last month's CableLabs Summer Conference in Keystone, Colo.
Haste and its potential service provider partners are discussing possible ways to co-brand and co-market the service to consumers, but Haste is also hoping to find a repeatable template.
Some discussions have centered on creating a premium, gaming-focused tier of service that bundles in the Haste service or having Haste super-charge one of an operator's highest-level broadband tiers. Though the idea is to co-brand with Haste (as its name brings valuable credibility to the gamer community), the proposed integration would have the service provider handle the exchange of account information and control the offers being presented to consumers.
While that could generate more revenues and draw new customers to a company's broadband service, offering Haste's low-latency capability could also provide an ISP with something in general to offer to people who are looking for a way to reduce latency in the competitive world of multi-player gaming.
"What we've heard is that they [the service providers] want to have an answer to that [latency issue], and that they're a possible solution to latency, which has become more and more important" as online gaming continues to increase in popularity, Perry said.
Gaming is big business. According to NewZoo, a market intelligence and data company focused on gaming and e-sports, the global games market will grow 13.3% and eclipse $137 billion this year. The PC gaming arena, where Haste is focused, is worth some $32 billion. In the more serious e-sports category, total revenues are expected to hit $906 million in 2018, up 38.2% year-on-year, per NewZoo's forecast.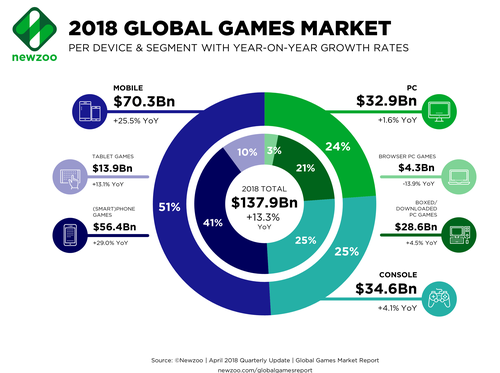 Haste, which competes with companies such as Outfox and consumer use of VPN software to help improve network latency, has initially focused on this market using a direct-to-consumer model, supporting more than a dozen titles, including Fortnite, FIFA 18, League of Legends, Overwatch and Heroes of the Storm.
To help it get a better fix on the market reaction to its latency-cutting service, Haste erected a paywall about a year ago and currently sells a premium "Pro" version of the service for $15 per month or $120 per year. Its free offering lets users earn credits toward free games on the Haste network.
Haste is nearing 600,000 registered users and has "several thousand paying customers," Perry said. By the end of this year, Haste expects to have optimized 20.19 million hours of game play cumulatively, with more than 202 million hours of gameplay tracked (a figure that includes monitoring of consumers on Haste's freemium product).
"We've had some really exciting traction, but our focus now has been on channel opportunities," said Perry, who joined Haste in May.
Origins and architecture
The origins of Haste trace back to company founder and chief product officer Taric Mirza, a network engineer and gamer who initially tackled the low-latency challenge as a passion project that eventually evolved into the platform it is today.
Haste's platform includes a Windows app that recognizes gaming traffic and sends that traffic along the four fastest and most stable paths available to the game servers, based on a Haste intelligence engine that constantly collects latency data and connection quality info from the "nodes" (PCs running Haste's software) that Haste is tracking, as well as the company's various global points of presence. That system then uses machine learning techniques to determine those best, low-latency paths.
"We're constantly monitoring the network weather, essentially," Perry said, adding that the system solves not just for latency but also for jitter and packet loss. "There's nothing that the gamer has to do to make Haste work its best… We already know the best route."
Here's Haste's primer on how its platform/system works:
As for potential future work with ISPs, adding a Haste point of presence on the operator's network or having the customer's WiFi router serve as a Haste node could further optimize the Haste network, Perry said.
Haste's network currently supports North America and the northern portion of Latin America, and is getting "close" to extending support into Europe, Perry said. Haste, she noted, is also in talks with Ericsson AB (Nasdaq: ERIC) about tapping into its Unified Delivery Network (UDN), an edge compute network that aims to open up access to last-mile networks on a global scale. (See Ericsson Poised to Disrupt CDN Market, Ericsson Wants to Add Compute to CDNs and Ericsson Adds Unified Delivery Network Partners.)
Though Haste's focus will stay with PC gaming for the foreseeable future, its technology might also be suitable for other latency-sensitive apps like high-speed trading, betting and video conference calls.
Though Haste's approach and self-described use of "managed Internet fast paths" might grab the attention of network neutrality advocates, the company believes its use of a customer network infrastructure paired with optimized, dynamic route allocation brings a novel approach to low-latency gaming. (See FCC Nixes Net Neutrality Rules on June 11 and California Streamin': State Gets Tough on Net Neutrality .)
"We are using the Internet as the Internet is, without any prioritization," Perry said. "We're just taking over the game packet and volleying it along the points-of-presence that we have. The hot potato routing nature of Internet traffic is why people need Haste in many ways."
Atlanta-based Haste was founded in 2015 and has raised about $5 million so far.
— Jeff Baumgartner, Senior Editor, Light Reading
PARTNER PERSPECTIVES
- content from our sponsors
GUEST PERSPECTIVES
- curated contributions