Also in today's EMEA regional roundup: Deutsche Telekom, Orange collaborate on IPX research; mobile phone shops reopen in England; Germany's COVID-19 app ready to go.
Has the recent ruling by the General Court of the European Union to annul the decision to block the proposed merger between UK mobile operators O2 and Three paved the way for a rash of European telecom consolidation? A top legal eagle in the antitrust practice of Shearman & Stirling in Brussels certainly thinks so. Sara Ashall, counsel at the law firm, told the Financial Times: "The ruling will have knocked the [European] Commission's confidence, and it has called into question how aggressive they can be when blocking mergers … It has also given companies more confidence to merge. Even in cases where before they thought they didn't have a chance, they may now give it a shot." (See O2-Three UK merger probably should have been allowed.)
Deutsche Telekom Global Carrier and Orange International Carriers are cooperating on two proofs of concept as part of a wider, GSMA-backed push to strengthen and standardize IPX network architecture. The companies are focusing on two areas: key performance indicators using blockchain technology, and optimizing system architecture for regional peering.
Today sees a significant easing of lockdown retail restrictions in England, and mobile phone outlets are among those hoping to welcome back stir-crazy consumers with unspent cash burning a hole in their pockets. O2 has been encouraged by demand shown at its stores in Northern Ireland, which were allowed to reopen a week ago, and is touting a "range of golden deals" (such as a few months' "free" Disney+ streaming action) in order to cattle-prod folk through its doors. Vodafone, meanwhile, is being slightly more cautious, opening 65 of its 300-plus stores in England today, and offering the services of a "concierge" to meet and greet, and point people in the right direction as they enter the store.
Germany will launch its COVID-19 contact-tracing app this week, according to a Reuters report citing the country's health minister. The authorities there have opted for a Bluetooth-based approach that – unlike the UK's effort currently being half-heartedly trialed on the Isle of Wight – does not rely on a centralized database, using a combination of technology knowhow from Deutsche Telekom and software giant SAP.
BT has joined forces with the University Hospitals Birmingham NHS Foundation Trust to trial new remote diagnostic technology that runs over a converged 4G/5G and Wi-Fi network. It can help clinicians "see" patients safely, as the COVID-19 pandemic continues to wreak havoc. The remote diagnostic station includes a high-definition camera that can be worn by colleagues to help give clinicians a clear bedside view of patients, using digital stethoscopes and other appropriate equipment.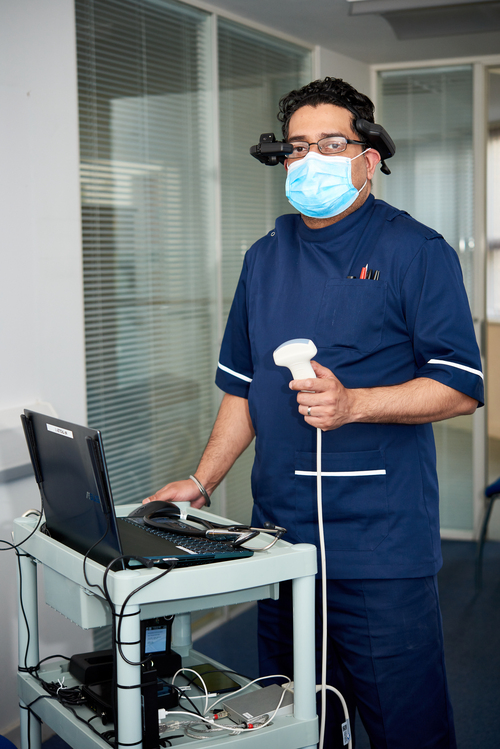 — Paul Rainford, Assistant Editor, Europe, Light Reading