Google: Carriers & Cloud Providers Need to Cooperate

Comment (12)
DÜSSELDORF -- SDN & OpenFlow World Congress -- You can sense eyeballs rolling in their sockets when a conference speaker calls for companies to cooperate. It's a nice sentiment: Let's all work together because conflict is icky. But the reality of the marketplace requires competition.
Geng Lin, CTO of corporate networks for Google (Nasdaq: GOOG), wasn't delivering that message in his keynote here Thursday. When Lin called on carriers and cloud providers to cooperate, he didn't sound like a kindergarten teacher asking the children to play nice. Rather, Lin was the voice of marketplace demand. Carriers and cloud providers need to cooperate to deliver application performance to their shared enterprise customers, he said.
SDN is becoming more popular with carriers and cloud providers, but the enterprise is still a silo of old-style networking. That's because enterprise networking is a reflection of enterprise IT. And enterprise IT is still based on decades of client-server architecture, Lin said.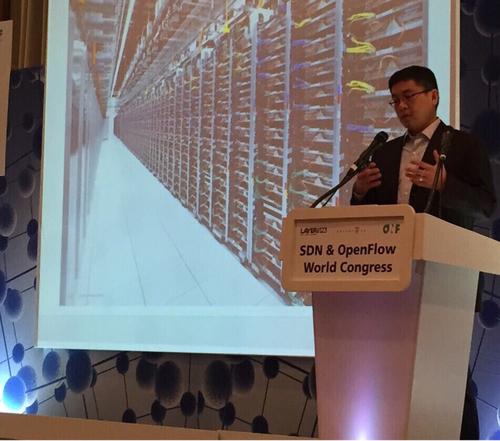 But IT is changing, as applications move from the data center to the cloud. This transition is changing all elements of the IT infrastructure, from the data center to the enterprise network to the interconnect between the enterprise and cloud applications.
Google, along with Facebook , Amazon.com Inc. (Nasdaq: AMZN) and Microsoft Corp. (Nasdaq: MSFT) Azure, set the gold standard for network and data center development. These so-called "Internet scale" or "hyperscale" companies have enormous data centers to support their cloud businesses, and are blazing the trail for carriers and enterprises on data center architecture and SDN. (See Google, Microsoft Challenge Service Providers, Google's Andromeda Relieves Cloud Strain and Facebook in Production Testing of Open 'Wedge' Switch.)
Cloud data centers are significantly bigger than enterprise data centers, creating new challenges in scale, power consumption and traffic management, Lin said.
Resource management is more flexible -- previously, each server owned its own resources. But now resources are virtualized, shared in common and dynamically controlled by applications, Lin said.
In the cloud data center, 90% of traffic is east-west. Utilization is much higher in cloud data centers than in traditional data centers, and the application programming model is massively parallel. Cloud data centers bring the compute to data, using tools such as MapReduce and NoSQL.
While the physical architecture of the data center is settled, the industry disagrees over the model for the control plane. Some, including VMware Inc. (NYSE: VMW) and Microsoft, support control at the edge. Others support the OpenFlow school of centralized control running on a white box with a complete view of the network topology and traffic conditions. And a third group combines the two schools, with an application-centric view combining virtual tunnels and physical network topology controls, Lin said.
Medium-sized enterprises and the smaller large enterprises prefer edged-based network control to centralized control, because those enterprises have less need to control the hardware. Very large enterprise and carrier data centers take the white-box approach of controlling the hardware. And Internet-scale businesses use both. "If you're operating at Internet scale, then you need to squeeze very ounce of performance," Lin said.
Enterprise CIOs need to reconfigure the campus network to reflect new needs, while connecting to the cloud over a secure, private WAN and integrating cloud services with apps that haven't yet moved to the cloud. Moving enterprise applications to the cloud gives enterprises an opportunity to simplify campus networks and reduce spending, Lin said.
Traditional client/server networks -- the model still standard in most enterprises -- are complex. The enterprise network required to support cloud applications can be much simpler. "You don't need that complicated distributed network. This represents a good opportunity to redefine the campus network," Lin said. With applications in the cloud, the network just needs to provide basic capabilities such as user access controls, multi-tenancy, network configuration, firewall, load balancing, NAT, and multi-tenancy user segmentation. Google has developed its own internal network, and implements those basic capabilities as virtual network functions.
The transition to cloud applications isn't all good news for enterprise network operators, Lin said. "The bad news is that you will have more challenges over the non-private WAN to achieve performance and application security," he said.
---
Want to know more about the cloud? Visit Light Reading's dedicated cloud services content channel.
---
The interconnection between the enterprise and public networks is where carriers and cloud providers come in -- they need to work together on developing standards for application-aware network performance and SLA guarantees. Google has issued a public call for cooperation on a common configuration model and performance metrics.
"You have to make sure the application level and network level are implementing and exchanging the same performance and security metrics," Lin said.
All this talk of cooperation is lovely, but I wonder how long hyperscale cloud providers and service providers can continue to coexist. Google, Microsoft and Facebook have massive data centers, bountiful connections with customers and deep reserves of cash. How long before these cloud providers decide that telcos are barriers in the customer relationship and need to be swept aside?
— Mitch Wagner,

, West Coast Bureau Chief, Light Reading. Got a tip about SDN or NFV? Send it to [email protected]