AWS Commands Corner Over Cloud Market
Amazon Web Services continues to dominate the worldwide cloud infrastructure services market with nearly $1.2 billion in revenue growth over the past four quarters.
Overall, hyperscale cloud providers are maintaining their lead position in the cloud market -- which has steadily grown over 40% each year, according to a report released last week by Synergy Research Group providing analysis of the cloud market for the second quarter of 2017.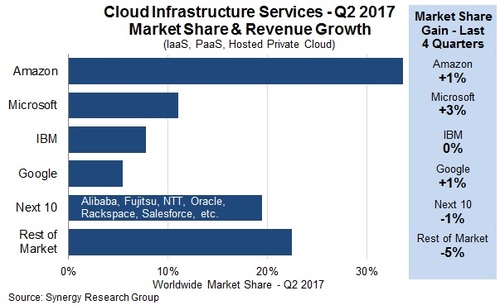 Of the leading cloud providers -- Amazon, Microsoft, IBM and Google -- Amazon is over three times the size of its nearest competitor. While Microsoft Corp. (Nasdaq: MSFT) and Google have nearly doubled quarterly revenues since the second quarter of 2016, Amazon Web Services Inc. maintains its lead in the market with 34% of the cloud market share. Comparatively, Microsoft comes in at 11%, IBM Corp. (NYSE: IBM) at 8% and Google (Nasdaq: GOOG) holds 5% of the market. IBM's strength continues to lie in the hosted private cloud, and the report notes that Rackspace is also one to watch in hosted private cloud.
"While Microsoft Azure and Google Cloud Platform are doubling in size, IBM continues to dominate in hosted private cloud and AWS is still over three times the size of its nearest competitor," said John Dinsdale, chief analyst and research director at Synergy Research Group, in the release. "The year-on-year market growth rate is nudging down as we expected in such a large market, but it remains at comfortably over 40% and AWS alone generated revenue growth of $1.2 billion over the last four quarters."
Of the next ten top-ranked cloud providers -- which includes Alibaba, Fujitsu, NTT, Oracle, Rackspace and Salesforce -- Alibaba and Oracle are coming out on top with the highest growth rates. However, in the last four quarters, these ten have lost 1% of the market share, and the remainder of the market is down 5%.
In examining cloud infrastructure services -- which includes public infrastructure-as-a-service (IaaS), platform-as-a-service (PaaS) and hosted private cloud services -- Synergy found that AWS, Microsoft and Google are the lead providers in IaaS/PaaS, and Alibaba is ranked fourth in IaaS due to its strength in the Chinese market.
Synergy estimates that quarterly cloud infrastructure service revenues have reached about $11 billion and forecasts continued growth of over 40% each year.
— Kelsey Kusterer Ziser, Senior Editor, Light Reading
PARTNER PERSPECTIVES
- content from our sponsors