Pole attachment rules -- rules that govern how telecom companies can attach equipment to utility poles to deliver Internet and phone services -- are a huge problem for the broadband industry, and in recent years, the problem has taken center stage as new market entrants have faced off against incumbent ISPs over streamlining utility pole access.
Incumbents have won hard-fought battles for utility pole real estate in many regions, and they're loathe to make it easy for competitors to claim their own space on those poles in a bid to launch rival services. (See Gigabites: A Love Letter to Nashville.)
However, attachment rules aren't only a thorn in the side of newer service providers. Incumbent ISPs also have to extend the reach and capacity of their services, meaning that they too need to negotiate new access rights with local municipalities. In particular, the looming arrival of 5G technology means that telcos are racing both to densify their wired networks and install new nodes that will use that backhaul capacity to enable super-fast wireless connections.
Unfortunately, addressing pole attachment rules is tricky, and not just because of disputes between network operators. The biggest challenge to widespread new deployments is the fact that access to each utility pole site has to be negotiated individually, and the rules, timelines and costs associated with access vary dramatically from location to location. (See Broadband Has a Problem on the Pole.)
The FCC steps in
The result of the growing pole attachment problem is that the Federal Communications Commission (FCC) has now decided to tackle the issue as part of a new Notice of Proposed Rulemaking (NPRM) on Accelerating Wireline Broadband Deployment by Removing Barriers to Infrastructure Development, and through the formation of the Broadband Deployment Advisory Committee (BDAC). Any attempt at solving the problem will require significant collaboration among parties with very different goals. However, both the FCC and the broadband industry as a whole are motivated, even acknowledging that ISPs may have to compromise both with each other and with the municipalities they serve.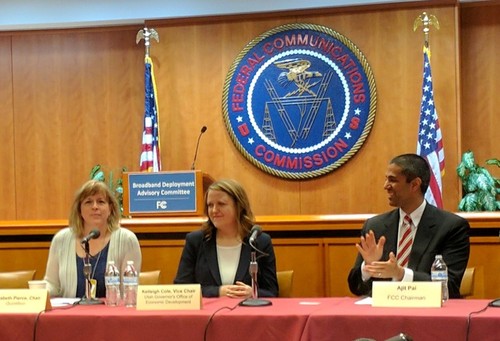 At the first meeting of the BDAC last week, one idea in particular surfaced that is guaranteed to generate further discussion as the committee officially begins its work. Multiple committee members, both during the meeting and in outside discussions, suggested that there needs to be a shift from negotiating pole attachment rights on an individual basis to negotiating rights across an entire network deployment plan. In other words, as Digital Bridge Holdings CEO Marc Ganzi put it, ISPs should work with local governments to move from site-by-site reviews of pole attachment plans to a broader network review strategy that would speed up the permissions process.
The tradeoff for ISPs with this network review approach is that they would have to disclose their specific deployment plans to community officials. Typically, service providers are wary of sharing those details because it gives them less flexibility to make adjustments and because they worry about information leaking to competitors. However, a statement by Chris Bondurant, an assistant VP of construction and engineering operations at AT&T Inc. (NYSE: T), at the BDAC meeting suggests that change is not impossible.
In fact according to Bondurant, he was able to use this specific approach of sharing a network roadmap with government officials as part of a Chicago network build-out.
"I built quite a few of these [small cells] a few years ago, and one of the things we did was sit down with Chicago and say hey, we know you don't want these everywhere, but this is our full plan. This is our network ... This is what we want to build," said Bondurant. "And I think we got credibility because we never really deviated from when we sat down and said this is what we're going to build. And if we did deviate we'd go back to the city and say hey this is what we need and here's why. And I think that piece is very important."
Next page: Municipalities have a lot to learn