US Broadband Subscriber Slowdown Could Spark ARPU Gains
The rate of US broadband subscriber growth slowed in Q2 2019, presenting the potential for cable operators such as Charter Communications to raise prices and goose their average revenue per user (ARPU) figures.
That's a conclusion drawn by Craig Moffett in his latest analysis of US broadband trends in the wake of recent Q2 financial results by major MSOs and telcos.
At a high level, overall subscriber growth among US broadband service providers decelerated from 3% in Q1 2019 to 2.8% in Q2 2019, the MoffettNathanson analyst found in a report delivered via email on Tuesday. Broken down further, US broadband providers added 438,000 subs in Q2 2019, versus 570,000 in the year-ago quarter.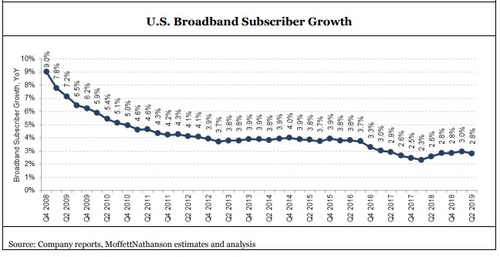 That drop reverses recent trends in which overall subscriber growth accelerated in 2018 and into early 2019. Playing a big role in the recent drop was a small decline in new household formation (-59,000) in Q2 2019 compared to a year-ago solid gain of 664,000, Moffett pointed out.
US cable continued to snare the lion's share of the market in the period (adding 601,000 broadband subs), but likewise saw subscriber growth in the category slow slightly -- to 4.8% in Q2 2019 versus 5% in the year-ago quarter.
Though there are fewer "legacy DSL" subs for cable operators to lure in, US MSOs still gained the vast majority of broadband industry net adds in Q2, Moffett said. He believes that some cable gains are coming from the "middle" tier of AT&T's copper-based fiber-to-the-node broadband offerings.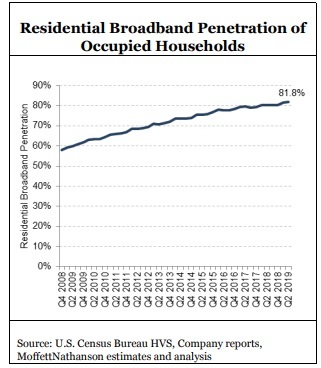 Meanwhile, telco broadband subscriber losses accelerated from -1.1% (-127,000 subs) in Q2 2018 to -1.3% (-172,000 subs) in Q2 2019. Satellite-based Internet service providers, still a drop in the total US broadband bucket, added just 9,000 subscribers in Q2, versus 17,000 adds a year earlier.
Moffett also believes that fears about Verizon's initial swipe at wireless home broadband substitution with its 5G Home product "have faded."
"Nine months ago, 5G fixed wireless broadband was perhaps the cornerstone of the Cable bear case," he wrote. "Now, Verizon's millimeter wave plans are largely dismissed."
However, he believes that the fixed wireless plans for the proposed combo of T-Mobile and Sprint could be "more consequential," as they have committed to bringing fixed wireless broadband to an initial 9.9 million homes passed, including 2.6 million in rural markets. That figure is slated to grow to 28 million homes passed, and 5.6 million in rural locations, within six years. Their expected use of 2.5GHz spectrum (rather than mmWave) will also give T-Mobile/Sprint "a reasonable chance of success," Moffett said.
The ARPU opportunity
With the rate of broadband subscriber growth continuing to slow as the market becomes increasingly saturated, Moffett believes that it will cause some operators to boost ARPU using price adjustments. He also believes operators will benefit from higher prices on unbundled broadband service as more customers drop their cable pay-TV packages.
A prime example here, particularly in the area of pricing, appears to be Charter, whose broadband ARPU has lagged well behind that of publicly traded peers such as Comcast, Altice USA and Cable One.
Charter is reportedly set to introduce new pricing next month for both broadband and pay-TV that could help the MSO narrow the ARPU gap with other major US cable operators. Charter, which does not implement data caps and usage-based broadband pricing per the conditions of its Time Warner Cable acquisition approval, is about to raise its Standard tier price 6%, to $69.99 per month, and raise the price of that tier coupled with WiFi 7%, to $75.99 per month.
"The broadband increases alone would suggest significant upside to Charter ARPU estimates," Moffett said. However, Charter's plan to raise video pricing also "underscores their recent pivot towards 'letting' video customers leave if they want to, and repricing those who remain for profitability."
Charter's apparent shift in video retention strategy is also present in the MSO's new deal with Disney, which "contemplates" future distribution of Hulu, ESPN+ and Disney+, a subscription streaming service set to launch on November 12.
"Faster video subscriber losses would only accelerate broadband ARPU gains (and, with better profitability on video, will push margins higher)," Moffett wrote.
Related posts:

— Jeff Baumgartner, Senior Editor, Light Reading
UPCOMING LIVE EVENTS
June 6-8, 2023, Digital Symposium
June 21, 2023, Digital Symposium
December 6-7, 2023, New York City
All Upcoming Live Events
PARTNER PERSPECTIVES
- content from our sponsors