Interesting news of a UFO sighting in the UK... That is, the Ultra Fibre Optic trial being run by triple-play operator TalkTalk in the city of York.
Alternative FTTH services are always worth watching but it's the underlying model in York that makes this particularly interesting. TalkTalk and Sky both signed up last year (with a small capital investment of about £5 million/US$6.6 million each) to see if they could design and sell very high speed broadband services using dark fiber plant supplied by competitive wholesale transport network operator CityFibre , with both using the UFO tag for marketing purposes. (See CityFibre, TalkTalk & Sky to Speed Up York FTTH Rollout and item number five in this Eurobites news roundup.)
So the model here is that a partnership is forged, joint investment is agreed, CityFibre builds out the fiber and acts as the wholesale dark fiber supplier, while the retail service providers provision and sell services using that underlying infrastructure.
Things went a little quiet for the rest of 2015 while interest was gauged but commercial services came on line earlier this year with near-gigabit speed services on offer, starting at just £21.70 ($28.62) per month.
Sky remains quiet on developments, but TalkTalk noted Wednesday in its trading update:
We have continued to make good progress with our fibre to the premise (FTTP) trial Ultra Fibre Optic (UFO) in York. The build has passed nearly 11,000 homes to date, with penetration reaching c12% only 3.5 months after commercial launch, and ramping steadily. Nearly half of the TalkTalk connections are from customers who were not previously with TalkTalk, driving a material increase in our market share in the area. With build costs already established at below £500 per home passed, we are increasingly confident of reaching our targeted penetration rate of 30%-40% and delivering the proof of concept required to expand beyond York.
The target of the trial was to enable gigabit broadband access to customers at a cost of £500 each and that target has been achieved: If TalkTalk continues to sign up customers, especially if they are new to the service provider, it seems likely to meet its York trial targets and look to expand and repeat the model elsewhere.
That would appear to be good news for CityFibre, which is now operational in 37 UK cities and, according to its CEO Greg Mesch, is pulling the stops out to hit its target of 50 within the next few years.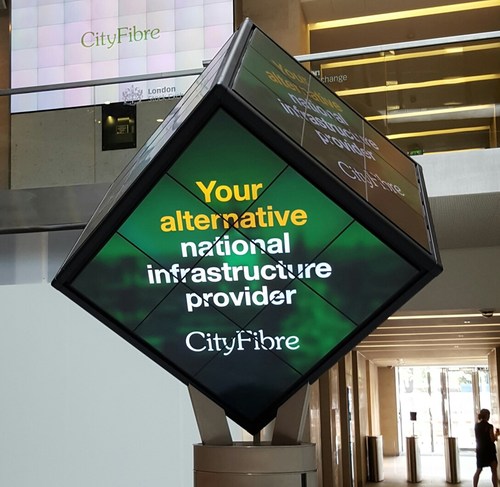 That expansion, and CityFibre's operational model (including speed of delivery), is proving attractive to ISPs, mobile operators (in need of backhaul capacity) and local government bodies with digital/smart city ambitions, many of which attended a Dark Fibre Symposium held by CityFibre in London on Wednesday. Those existing and potential customers are keen because, at least in some areas of the UK, they now have a dark fiber alternative to the data services offered by BT Group plc (NYSE: BT; London: BTA) and Virgin Media Business Ltd.
A few years ago, CityFibre was a startup with an interesting idea and an ambition to float on London's Alternative Investment Market (AIM). Now it's a meaningful player in the UK fiber infrastructure market (in terms of network assets and impact, if not yet in revenues): No wonder BT put Clive Selley in charge of its network access business Openreach … (See CityFibre Aims High in BT Battle, BT's Broadband Chief Preps for 5G With FTTx Plans and BT Names Clive Selley as New Openreach CEO.)
— Ray Le Maistre,

, Editor-in-Chief, Light Reading