Starry, a startup focused on 5G-based fixed wireless broadband services, said it will launch service this fall in New York City and has hooked up with a real estate company that will help to grow its reach.
The debut in New York, starting in select parts of Manhattan and Brooklyn, will expand on Starry Inc. 's existing launches in Boston; Los Angeles; and Washington, DC, and come on the heels of its $100 million "C" funding round. (See Starry Scores $100M More for Wireless Broadband.)
Starry, which has raised $163 million so far, has also partnered with Related Companies, a real estate developer and management firm that will help Starry bring service to its mix of luxury and "affordable" residential properties. Related Companies also made a strategic investment in Starry and participated in the recent C round, they said.
Related also piloted Starry's service in Boston and will give Starry an outlet to its buildings in Los Angeles and New York. This fall, Starry will also provide Related Companies with access to a new low-cost product, called Starry Connect. Related said it owns and operates about 45,000 affordable housing units across the US already. (See Starry Tests Free Wireless Internet for Public Housing.)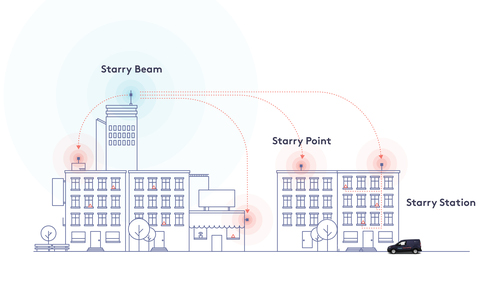 Starry is working to launch in 18 more markets over the next year, including Denver; Cleveland; Chicago; Houston; Dallas; Seattle; Detroit; Atlanta; Indianapolis; San Francisco; Philadelphia; Miami; Memphis; Phoenix; Minneapolis; Manchester, N.H.; Portland, Ore; and Sioux Falls, SD.
Starry, which has initially focused on apartment buildings and other types of multiple-dwelling units, has been using millimeter wave band spectrum (in the 37GHz to 38.6GHz band) to underpin a 200 Mbit/s symmetrical, no-contract broadband service for $50 per month. (See Starry Fixed Wireless Debuts at $50/Month.)
Its internally developed architecture is comprised of the Starry Beam network node, the Starry Point at-premises transceiver and an in-home WiFi hub called the Starry Station.
Boston-based Starry has about 300 employees. It has not released subscriber numbers, but an official said the service, in the early going, has tended to attract cord-cutters who are using broadband to access OTT-delivered video services. (See 5G Fixin' to Become 'Largest Existential Threat' to Broadband Providers – Analysts.)
— Jeff Baumgartner, Senior Editor, Light Reading