If there's any common ground between Democrats and Republicans in the US today, it's the agreement that government has a role to play in upgrading outdated American infrastructure. And with talk of a federal infrastructure bill in the works, there have even been hints of a possible bipartisan effort to use investment spending on critical infrastructure as a way to create jobs and build on the country's global competitive advantage.
Not so fast, says Senator Brian Schatz (D-HI).
"I worry a little bit about everybody trying to hitch a ride on an infrastructure package," Schatz declared at the Incompas 2017 Policy Summit held in Washington DC earlier this week. "I do not believe that we're going to have an infrastructure bill to tell you the truth."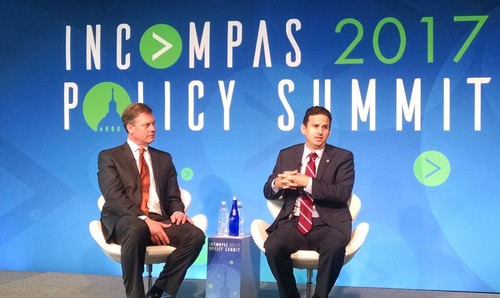 The news may be disheartening to those in the technology and telecom industries, many of whom believe that broadband deployments could and should find their way on to a list of federal spending priorities. In fact, Sen. Cory Gardner (R-CO) said as much during the same Incompas conference where Senator Schatz also spoke.
"I've encouraged President Trump to include telecommunications as part of any infrastructure package that he presents to Congress," Senator Gardner stated.
However, according to Senator Schatz, there's not likely to be an infrastructure bill in the near term at all.
There are two major challenges. First, says Schatz, legislators have to work through an agenda that includes new cabinet appointments, judgeship nominations, the Affordable Care Act and more before infrastructure takes center stage. And second, even when lawmakers get around to infrastructure, "you have the same structural problem against an infrastructure bill that we had under President Obama," notes Schatz, "which is that we (Democrats) like infrastructure spending, [but] we do not like a tax subsidy for lenders who are making loans in the infrastructure space. That we do not consider to be an infrastructure package."
In other words, Democrats are going to want to set up a direct funding source for infrastructure, while Republicans are going to want to offer tax credits as a way of stimulating private investment instead.
---
Want to learn the latest on broadband technology developments? Sign up now for Light Reading's Cable Next-Gen Technologies & Strategies event on March 21-22, at the Curtis Hotel in downtown Denver.
---
Regardless of how lawmakers expect to move forward with infrastructure, there is at least some public perception that legislative action is on the way -- not least because President Trump said in a policy statement just before he was elected that he wants to work with Congress to spur $1 trillion in infrastructure investments over the next decade. And if that's not the case, then people in several industries, including telecom, are in for a rude awakening.
"As we think through a broadband deployment agenda," Schatz says, "as we think through infrastructure priorities in the tech space, don't necessarily hitch your wagon to a bill which is now just a twinkle in someone's eye. There is no bill yet. There is no consensus. There is no real working group. There is no approach yet."
— Mari Silbey, Senior Editor, Cable/Video, Light Reading