Post IPO, What Does Altice USA Acquire Next?

Comment (3)
Part of Altice's strategy in raising $1.9 billion in an IPO for its US division is to shore up new funds for further acquisitions. Unfortunately, the American cable market may not be as ripe for further consolidation as Altice is portraying it to be, at least not at the scale its executives are looking for.
Currently, Altice has just under 5 million customers in the US. For a quick boost, the company could look to buy up privately held Cox Communications Inc. with its estimated 6 million subscribers, but Cox has repeatedly and emphatically said it's not for sale. Furthermore, if Cox did make itself available, Altice would likely find itself in a bidding war against Charter Communications Inc. , which is also hungry for new subscribers.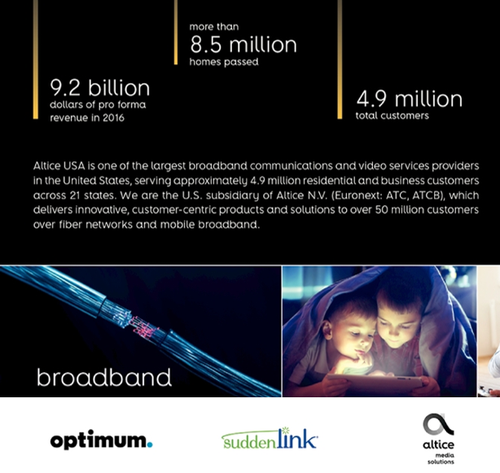 So what else could Altice target?
Mediacom Communications Corp. , Cable One Inc. and WideOpenWest Holdings LLC (WOW) are all possibilities, although WOW just completed its own IPO and says it has no immediate plans for M&A activity. (See WOW Doesn't Wow Wall Street.)
Even if Altice did manage to acquire all three of the midsized operators, it would still only buy itself around 2.5 million new subscribers. That should be enough to put Altice slightly ahead of Cox in size, but it would be nowhere near enough to get it close to the scale of top rivals Comcast Corp. (Nasdaq: CMCSA, CMCSK) and Charter. And there's a big dropoff in subscribers after those three mid-tier MSOs.
Wall Street's Craig Moffett, principal analyst of MoffettNathanson LLC , puts it even more bluntly, suggesting while there may still be a few small cable deals ahead, "The age of consolidation in cable is mostly over."
He adds that any small operators acquired won't do much to alter the national cable landscape. "The path to being nationally relevant for anyone not named Comcast or Charter has already closed," says Moffett.
---
For more cable market coverage and insights, check out our dedicated cable content channel here on Light Reading.
---
Perhaps Altice could look outside the cable market for acquisition targets. Dish Network LLC (Nasdaq: DISH) wouldn't deliver any fixed broadband assets as part of a deal, but it would provide significant and valuable spectrum holdings for future wireless services. A buy-up of Dish would also earn Altice leverage in programming negotiations on the pay-TV side, much the way that AT&T Inc. (NYSE: T) was able to cut costs once it acquired DirecTV because of the impact of its greater size on content licensing fees.
However, Dish would still limit Altice's immediate broadband distribution opportunities, and the cost could be astronomical. Dish, after all, did just spend $6.21 billion on new spectrum licenses in the FCC's recent incentive auction. That puts a premium on Dish's price tag without the promise of immediate new broadband subscribers. (See T-Mobile, Dish & Comcast Big Winners in $19.8B 600MHz Auction.)
All in all, Altice's near-term cable prospects in the US aren't ideal. Management may be gung ho to expand its service area, but the pickings on this side of the Atlantic have gotten pretty slim.
Related posts:
— Mari Silbey, Senior Editor, Cable/Video, Light Reading
PARTNER PERSPECTIVES
- content from our sponsors
GUEST PERSPECTIVES
- curated contributions