DENVER -- Cable Next-Gen Technologies & Strategies -- The US cable industry is "destined to keep its broadband advantage for the foreseeable future and will likely keep increasing its broadband market share," Light Reading Cable/Video Practice Leader Alan Breznick said here today. Just as importantly, broadband revenues will soon catch up to and then exceed video revenues for the cable industry, as broadband profits and subscribers have for some time, he noted.
That's the good news for the cable industry. The bad news is the continued decline of video subscribers, albeit at a slower pace than cable's top competitors -- telco and satellite -- are bleeding video subs, Breznick said. Still, he said, cable is down to a "two- to three-decade low in video subscribers, dating back to the '80s and '90s when they were still ramping up."
But back to the bright broadband outlook: While telco competitors like AT&T, CenturyLink and Verizon are fighting back with gigabit services over fiber lines, cable has re-armed technologically with DOCSIS 3.1 and is rolling out its own gig offerings, with Full Duplex DOCSIS looming in a couple of years to continue the competitive advance, Breznick said. He noted that many of the largest players have announced D3.1 deployments that exceed 80% to 90% of their coverage area, and every major operator other than Charter Communications Inc. has rolled out a gigabit offering of its own.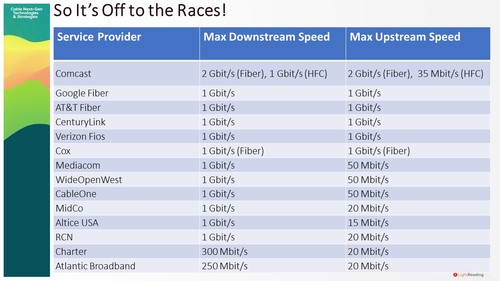 So despite the telco gigabit push, cable has an almost two-thirds share of the US broadband market at 64.4%, compared to telco offerings at 35.6%., according to Leichtman Research, Breznick said. Comcast Corp. (Nasdaq: CMCSA, CMCSK) is the largest provider with 25.9 million, not that far behind the entire telco total of 33.9 million broadband subscribers.
"A few years ago, cable broadband passed cable video subscribers in number; what will soon happen is that broadband revenues will pass their video revenues," he commented. That is significant because broadband is typically a lower-cost service than video packages but, because of its higher margins, can generate more profits at lower prices. "Broadband profits have been higher than video profits for some time. The last leg of that stool is broadband revenues, and soon those will be higher. They haven't quite gotten there yet but it is coming soon and it will be another seachange for the industry."
On the video side, cable continues to lose customers as the general pay-TV market shrinks, but isn't losing them as fast as its telco and satellite rivals. Cable lost 660,000 subs last year while satellite lost 1.5 million and telco TV dropped 883,000 customers. Over-the-top "skinny" video bundles gained 1.6 million but that wasn't enough to offset the losses, taking the pay-TV market down about 1.5 million customers total, according to figures compiled by Leichtman Research.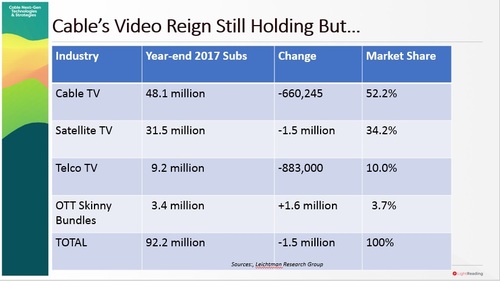 Netflix Inc. (Nasdaq: NFLX) continues to dominate the streaming video services segment, almost to the point of world domination, Breznick noted. Netflix hit about 110 million subs in 2017 on a global basis, with more than half of those coming from the international sector. Other OTT players are starting to scale too, with HBO Now leading the way with 5 million subs.
---
How can operators develop solutions for the growth of video, AR and VR? Boost your understanding of video and immersive experience trends -- join us in Austin at the fifth annual Big Communications Event May 14-16. The event is free for communications service providers!
---
Comcast and Charter both managed to slow the video subscriber decline with new set-top boxes that delivered cloud-based services, but even those newer offerings weren't enough to reverse the trend toward OTT video, Breznick added. As a result, he thinks cable will soon be rethinking its own content strategies.
"With cable operators finally conceding the point that OTT video is here to stay, I would expect that a lot of second- and third-tier cable networks will fall by the wayside and deservedly so," Breznick commented. "People aren't watching them, and don't need them. The days of 500-channel offerings will keep declining -- people would rather get 50 channels they want for a certain price."
Breznick's presentation kicked off two days of intense discussion on cable's technology strategies, including what he expects to be significant action on the distributed access architecture and virtualization fronts. Stay tuned for more Light Reading coverage of that activity.
— Carol Wilson, Editor-at-Large, Light Reading