The FCC says it wants to keep the public informed about the potential impact of the acquisitions and swaps proposed by Comcast, Time Warner Cable and Charter. Except apparently it wants to do so while also holding back data on the various MSOs' actual broadband subscriber counts.
The Federal Communications Commission (FCC) released subscriber information this week (hat tip, CED) that's supposed to show how many broadband customers the relevant cable companies would have across different speed tiers both before and after the proposed transactions. However, the first three pages of the heavily redacted document list chart after chart with nothing but the totals filled in at the bottom.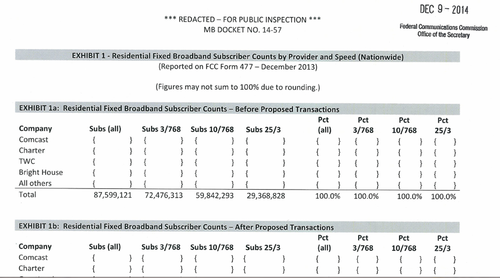 We learn, for example, that as of the end of 2013, there were nearly 60 million fixed broadband subscribers getting speeds of 10 Mbit/s downstream and 768 Kbit/s upstream. However, we don't get access to the breakdown of those subscribers across the different service providers. Those fields have been left blank.
The report does give more detail about the number of wireline broadband providers that consumers in different areas should have access to before and after the merger deals. Using the same benchmark speeds of 10 Mbit/s and 768 Kbit/s (the report also covers higher- and lower-speed tiers), the FCC found that 29% of consumers within the post-transaction Comcast Corp. (Nasdaq: CMCSA, CMCSK) footprint would have a choice of one service provider… presumably Comcast. Some 59% would have a choice of two, while a lucky 12% would have a choice of three or more. (See also Wheeler Urges More Broadband Competition.)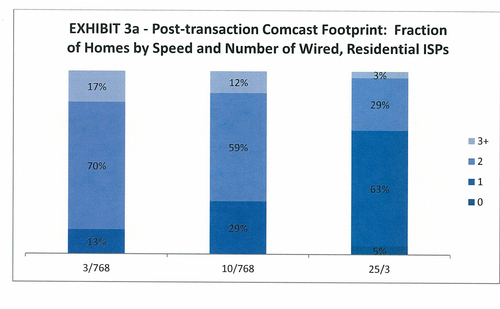 The data the FCC provides in its report is useful, but could be far more so. If information wasn't redacted, for example, we could learn what percentage of Comcast subscribers get speeds of 3 Mbit/s down and 768 Kbit/s up versus 10 Mbit/s down and 768 Kbit/s up or 25 Mbit/s down and 3 Mbit/s up. We would also be able to determine what percentage of broadband subscribers in each speed tier would belong to Comcast before and after the proposed mergers.
---
Find out more about key developments related to broadband on Light Reading's dedicated broadband channel.
---
It's worth noting that as the merger overview activity continues, FCC Chairman Tom Wheeler is simultaneously pushing for an increase in the speed threshold that determines whether an Internet service can be considered broadband. He would like to more than double the baseline downstream speed from 4 Mbit/s to 10 Mbit/s. As a step in that direction, the FCC decreed last Thursday that companies receiving federal subsidies from the Connect America Fund must deliver Internet service at speeds of at least 10 Mbit/s downstream and 1 Mbit/s upstream. (See FCC Sets 10 Mbit/s as New Connect America Fund Speed.)
— Mari Silbey, special to Light Reading