There's a lot that network data can tell you if you know where to look.
Earlier this month, Internet performance monitoring and optimization company Dyn looked at network traffic in the embattled Aleppo region of Syria and found that after a seven-month hiatus, Internet service routed through the network known by the Autonomous System Number (ASN) 24814 was once again back online.
Syria Telecom has remained up and running at least back through September -- a fact documented not only by Dyn, but also by Cedexis , which shows traffic running through Syria Telecom ASNs 29256 and 293836. But Dyn reports that Turk Telekom, the primary source of Internet service for Aleppo, Syria's largest city, has been offline since March 24.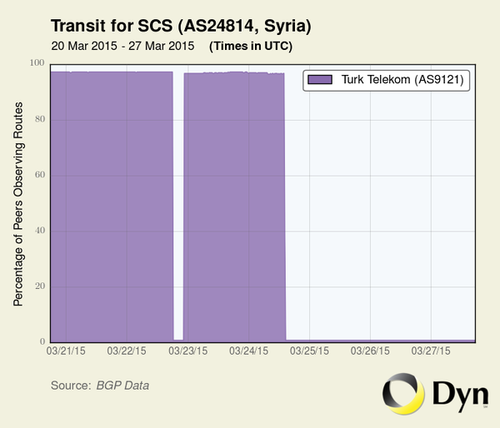 That source, identified through ASN 24814, finally showed signs of life again on November 8 and continues to report traffic through this week.
Dyn Director of Internet analysis Doug Madory is careful to point out that "while we can see that Internet service appears to be returning to the telecommunications facilities in Aleppo, it remains to be seen how quickly this service is extended to the residents there." In other words, just because the facilities are back online doesn't mean citizens are benefiting from it just yet.
However, the re-establishment of a link to Aleppo is good news in itself. And it's at least one small bright spot in a region of the world with so many problems and so much strife.
— Mari Silbey, Senior Editor, Cable/Video, Light Reading