UPDATE: President Trump spoke at the White House about his infrastructure plan.
Without providing specific details on broadband funding, Trump said of his proposal: "It provides $50 billion for rural infrastructure, who have really been left out -- the rural folks have been left out, including broadband Internet access, which they don't have. And they want it, and the farmers want it. It will create thousands and thousands of jobs, and increase training for our great American workers, and it returns power to the state and local governments who know best what their people need."
***
In the long-awaited run-up to President Trump's infrastructure proposal, the telecom industry has held out hope that broadband might benefit from a bit of federal funding largesse. But with Trump set to unveil his plan today, those dreams of federal broadband spending look ever more unlikely.
First, several outlets are now reporting that the infrastructure proposal is geared toward incenting state and local governments to raise the bulk of the money they need for infrastructure projects on their own. The federal government would commit $200 billion over the next decade toward that aim, but the goal would be to have localities put up at least 80% of the cost for most infrastructure ventures. In theory, cities and states would be able to use federal dollars to attract private investment, but that assumes that private investors would eventually see a profitable return. Unfortunately, many infrastructure projects can give no such guarantee.
Second, it's not clear that broadband will be given any specific budget allocation in the Trump proposal. According to NPR, the White House wants to set aside $50 billion out of the total $200 billion for rural initiatives. That money is supposed to fund projects where there is no natural incentive for private investment, but it appears those dollars would be required to cover everything from roads and bridges to sewer upgrades and new broadband deployments.
Unlike with most issues, there is general bipartisan consensus that broadband should play a role in any infrastructure bill. However, the degree to which broadband should be included and how deployments should be funded do not get the same level of agreement.
For example, Congressmen Bob Latta (R-OH) and Peter Welch (D-VT) have formed a caucus in the House to address rural broadband. But in speaking about their joint efforts, Welch is much more forceful about how the federal government needs to contribute to the process. Latta says he thinks broadband should be included in an infrastructure package, but Welch lays down the gauntlet by saying that without broadband there can't be a credible infrastructure bill at all.
"How can you have a serious infrastructure bill that doesn't have a serious broadband title? My view? It's not possible," asserts Welch.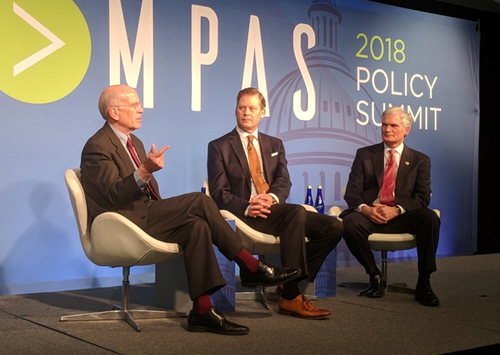 The emphasis between Latta and Welch on how best to expand broadband access and stimulate new Internet-based business is also very different. Latta highlights the importance of breaking down regulatory barriers.
"One of the things that Peter and I have heard from everyone [working in IoT]... They all said we're not against regulations, but give us soft-touch regulations that we can move forward with," notes Latta.
Welch, however, sees limits to the effectiveness of reducing the regulatory burden.
"I think there's some common ground there, but what I want to emphasize... if we don't have investment funds from the federal government to actually do the work, it's not going to get done," says Welch. "Because the private market doesn't have a market incentive to go to many of the rural parts of Ohio, many of the rural parts of Vermont. It's just like electricity. So what I get a little bit nervous about is when you talk about removing these barriers thinking that that magically means the lines will be deployed. There's got to be an investment fund."
The issue of funding is where the broadband dilemma gets tricky. Without new money, it's unlikely there will be massive Internet upgrades outside of densely populated areas, and it's even questionable how fast and how far the industry will spread new 5G network deployments.
Communications providers may have hoped for a little more financial support for their network infrastructure plans. But for now at least, it doesn't look like broadband is a federal spending priority.
Related Stories:
— Mari Silbey, Senior Editor, Cable/Video, Light Reading