SpaceX's ambitious plan to launch a constellation of thousands more low-earth orbit satellites for broadband services has cleared an important regulatory hurdle.
Last week, the Federal Communications Commission (FCC) approved the plans of Elon Musk's SpaceX to launch and deploy 7,518 additional satellites for its Starlink project using V-band frequencies. In March, the FCC approved SpaceX's plans for another 4,425 LEO satellites for Starlink.
If the project, at an estimated cost of $10 billion, goes to plan, the combined constellation of almost 12,000 Starlink satellites will be used to deliver broadband services around the globe. An initial group of those satellites are expected to go up in mid-2019, with completion of the deployment slated for the mid-2020s. SpaceX launched two test satellites for Starlink (called Tintin A and Tintin B) in February.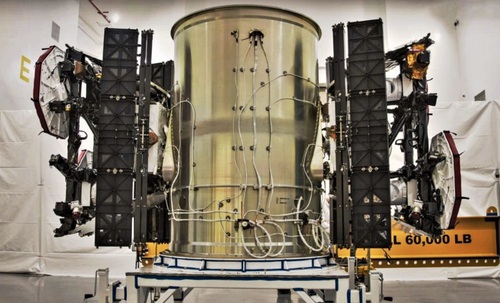 While a constellation of thousands of LEO satellites introduces a new set of complexities, the architecture is expected to reduce the latencies present in today's GEO-based satellite broadband services. A 2016 FCC report on broadband measurement found that the median latencies of today's geosynchronous earth orbit (GEO) satellite-based broadband services range from 599 milliseconds to 629 milliseconds, compared to 12 milliseconds to 58 milliseconds for terrestrial-based broadband.
Per the FCC order, adopted on November 15 and released on November 19, SpaceX has approval to construct, deploy and operate its non-geostationary orbit (NGSO) satellite systems in the V-band -- proposed for 37.5-42.0GHz (space-to-Earth); and 47.2-50.2GHz and 50.4-51.4GHz (Earth-to-space). Under the plan, the LEO satellites will operate at altitudes from 335km to 346km.
The earlier FCC approval on the other 4,000-plus NGSO satellites centered on the use of the Ka (20/30GHz) and Ku (11/14GHz) frequency bands.
The FCC also approved petitions from Kepler Communications, LeoSat, and Telesat for market access for their respective NGSO satellite deployment plans that include IoT and smart cities use cases.
"From providing high-speed broadband services in remote areas to offering global connectivity to the Internet of Things through 'routers in space' for data backhaul, I'm excited to see what services these proposed constellations have to offer," FCC Chairman Ajit Pai said in a statement.
Spotlight on space debris
Alongside the approval for thousands of LEO satellites to be deployed, the FCC is also mindful of the increased amount of space debris that will be circling the globe during this "New Space Age" and the unprecedented number of satellites that will be sent into orbit under the latest proposals.
To get a better fix on that issue, the FCC launched a review of rules aimed at mitigating space debris, including non-functional satellites, that are orbiting and will orbit the planet.
The Notice of Proposed Rulemaking (NPRM), arriving 14 years after the FCC's current orbital debris rules were adopted, aims to improve disclosure of debris mitigation plans, and is seeking comment on topics such as satellite disposal reliability and methodology, and a bigger focus on large NGSO satellite constellations, like the one SpaceX plans to launch.
The FCC said the US Department of Defense currently tracks about 23,000 man-made orbiting objects, and that the European Space Agency estimates that some 4,700 satellites are still in space, though only about 1,800 are still functioning. Another estimate finds that there are about 500,000 pieces of debris the size of a marble or larger and millions of smaller pieces of debris that are too small to be tracked.
Pai characterized the issue as a "very serious problem," given that small pieces of debris "can cause catastrophic damage."
However, FCC Commissioner Jessica Rosenworcel called the effort "only a timid start," holding that everything sent into space should be "trackable" and "drivable" so as to prevent orbital collisions. To emphasize the issue, she said the US military, on a typical day, issues 21 warnings of potential space collisions.
"It misses the forest for the trees," she said of the NPRM. "It asks loads of technical questions about what sorts of information about orbital debris we should expect from satellite operators, but it fails to set forth a vision for the coming commercial space age. Likewise, it proposes no principles or measurable goals for space safety."
She noted that the FCC has another 1,200 proposed satellites still in the review pipeline.
— Jeff Baumgartner, Senior Editor, Light Reading