Where's Huey Lewis when you need him?
Though the data is a wee bit musty, the FCC's latest Internet Access Services study found that the reach of Internet connections ticked up by the end of 2017, as did the number of connections that deliver downstream speeds of 100 Mbit/s or more.
As of December 31, 2017, total Internet connections increased by about 4% versus a year earlier, to 421 million, the 60-page report (PDF) found. Mobile Internet connections also rose 4.5%, to 313 million, and fixed connections were up 2%, to 108 million. The FCC, which has been refining its broadband study methods amid criticism that its methods are not fully accurate, points out that mobile Internet connections remained "underreported" by as much as 5% through December 2017.
This latest report is based on data from FCC Form 477 obtained by facilities-based providers. The FCC counts an "Internet connection" as delivering speeds of 200 Kbit/s in at least one direction. The Commission's definition for "broadband" is at least 25 Mbit/s down by 3 Mbit/s upstream.
In December 2017, 41 million connections (or 38% of them) were delivering at least 100 Mbit/s downstream, up from 24.5 million as of December 2016.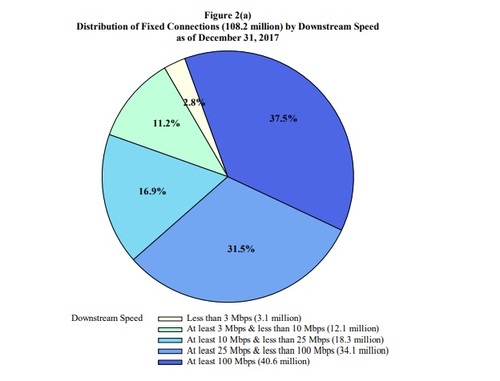 A good portion of the jump appears to be attributed to DOCSIS upgrades by cable operators. Almost 86% of residential fixed connections delivering at least 100 Mbit/s down and at least 10 Mbit/s upstream were via cable modem technology, with 13.6% from FTTP.
Cable modem tech led with the number of connections delivering at least 25 Mbit/s down by 3 Mbit/s (78.8 million), compared to 15.2 million connections for FTTP and 4.9 million ADSL.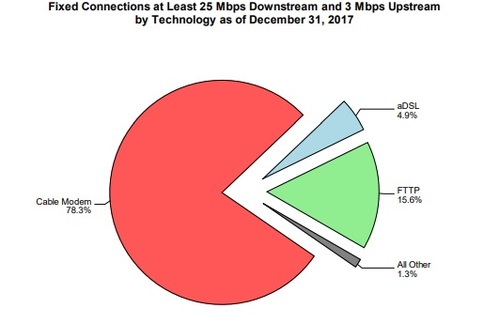 On the upstream side, the FCC report found that 27% of fixed connections (or 30 million of them) delivered at least 3 Mbit/s but were slower than 6 Mbit/s. About 45% of those fixed connections (49 million) pumped out at least 6 Mbit/s.
The median downstream speed of all reported fixed connections (residential and commercial) was 60 Mbit/s down and 6 Mbit/s on the upstream side. Median speeds were similar -- 60 Mbit/s down and 5 Mbit/s -- in the residential-only category of fixed connections.
By technology, mobile wireless Internet connections dominated the landscape, at 74.3%, trailed by cable modem tech, FTTP and asymmetrical DSL.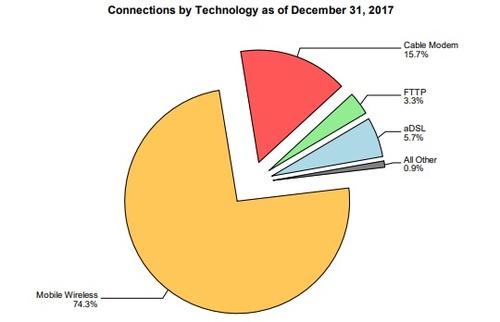 Related posts:

— Jeff Baumgartner, Senior Editor, Light Reading