Eurobites: Google's Balloon Goes Up Over Kenya
Also in today's EMEA regional roundup: Orange extends 5G testing in France; Cisco invests in UK innovation; ADVA revenues down in Q2.
Google's Loon -- a system of high altitude balloons used to spread Internet connectivity to the parts of the world others cannot reach -- is to become a commercial reality in Africa. Loon, now a separate company within the Google (Nasdaq: GOOG)/Alphabet Inc. empire, has struck a deal with Telkom Kenya , which will see its technology used to serve the Internet-starved in both rural and suburban locations from next year. Loon has had its problems in the past, crashing in Nevada and being mistaken for a UFO in Columbia, but it has already proved its usefulness after last year's hurricane in Puerto Rico, providing connectivity while the infrastructure was being repaired. (See Oh, the Huge Manatee! Google's US Loon Tests Renewed Into 2020.)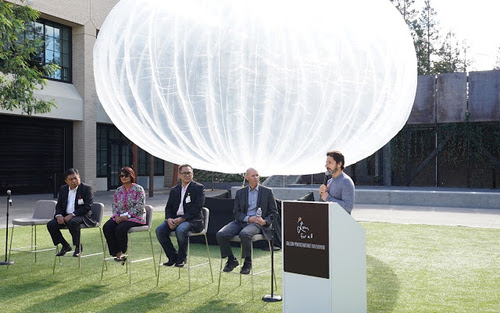 Orange (NYSE: FTE) has earmarked three more testing grounds for 5G in the Greater Paris region and Île-de-France, following on from earlier trials in Lille, Douai and Marseille. The 5G circus will now take up residence in the Orange Opéra megastore in Paris, the Orange Gardens site in Châtillon and a vehicle testing track at Linas-Montlhéry.
Cisco Systems Inc. (Nasdaq: CSCO), the US networking gear giant, has committed to a $100 million investment to encourage digital innovation in the UK, with the first fruit of the agreement being a partnership with University College London to open what they describe as one of the world's largest artificial intelligence research centers. The investment forms part of Cisco's Country Digital Acceleration (CDA) program.
Second-quarter revenues at Germany's ADVA Optical Networking fell 14.2% year-on-year, to €123.7 million ($143.4 million), though net income was up 1.2% to €4.57 million ($5.29 million). Understandably, the vendor preferred to focus on Q2 2018 being its third consecutive quarter of sequential revenue growth. Looking ahead, ADVA expects revenues for the third quarter to be in the range of €123 million ($142.6 million) and €133 million ($154.2 million).
South Africa's MTN Group Ltd. is to sell its Cyprus unit to Monaco Telecom for around €260 million ($304 million), reports Bloomberg, as part of its refocusing of its business activities in Africa, where it may exit several markets, and the Middle East. The unit had just 426,000 customers at the end of March. (See MTN Could Exit 3 West African Markets – Report .)
Telenor Group (Nasdaq: TELN) has appointed Anne Kvam EVP and chief corporate affairs officer, reporting directly to the big cheese, Sigve Brekke. Kvam comes from a banking background, and has already served two years as a member of the Norwegian operator's corporate assembly. She succeeds Wenche Agerup, who is heading up a new unit, Group Holdings, which will focus on "telco-adjacent" businesses such as real estate.
Ireland's Openet Telecom Ltd. has settled its long-running patents dispute with Amdocs Ltd. (NYSE: DOX) in the US courts, with Amdocs agreeing to license certain patents to Openet as part of a confidential settlement. For more on this, read this story from our sister site Telecoms.com: Amdocs and Openet settle baffling, endless patent dispute. (See Openet 'Surprised' by Amdocs Legal Action for the initial coverage of this dispute from 2010.)
Sir Charles Dunstone is to stay on as chairman of UK broadband provider TalkTalk after he won the backing of 97% of shareholders at the company's annual general meeting, the Daily Telegraph reports. Some advisory firms had called for him to go after the company raised £200 million ($259.6 million) by placing shares representing 19.99% of stock, which is just below the threshold requiring investor approval. Dunstone personally controls 28.6% of TalkTalk.

— Paul Rainford, Assistant Editor, Europe, Light Reading
UPCOMING LIVE EVENTS
June 6-8, 2023, Digital Symposium
June 21, 2023, Digital Symposium
December 6-7, 2023, New York City
All Upcoming Live Events
PARTNER PERSPECTIVES
- content from our sponsors