What the vendors say
If service providers are wary of touting increases in capex, vendors from across the wireline broadband ecosystem -- from engineering and construction firms to network equipment makers and fiber manufacturers -- are bullish on future spending.

Dycom Industries Inc. , which provides contracting services for the telecom industry, has been relentlessly upbeat on network spending for many months, noting that it's seeing more customers planning for gigabit and even multi-gigabit broadband deployments. Beyond traditional residential services, the company also cites business services expansion, new rural broadband deployments funded through the Connect America Fund (CAF) Phase II, and support for next-generation wireless services as key drivers for fiber expansion.

In its 2015 Annual Report, Dycom said: "It is increasingly likely that 2015 will be seen in retrospect as the initiation of a massive investment cycle in wireline networks reminiscent of, and perhaps more meaningful than, the one that occurred in the 1990's."
The company reiterated that position in a presentation on September 8 saying: "Calendar 2016 performance to date and outlook clearly demonstrate we are currently in the early stages of a massive investment cycle in wireline networks."
MasTec , another engineering and construction firm in the telecom industry, is equally optimistic about wireline spending. In August, MasTec stated that it expects increases in wireline/fiber capex investments in 2016 and beyond. The company's reasoning? Carriers are "deploying aggressively in multiple markets," and Mastec has "already secured work in 14 markets for multiple customers this year."
In the cable market, the upward trend in network spending is very clear. The rollout of DOCSIS 3.1 technology is on the horizon, and, while it may take some time, there are nonetheless ongoing investments taking place to ensure that operators can take full advantage of D3.1 and other next-generation broadband technologies for residential services in the future.
Newly minted Arris Group Inc. (Nasdaq: ARRS) CEO Bruce McClelland noted the positive investment trend recently at the Jefferies Semiconductors, Hardware & Communications Infrastructure Summit, and Jefferies itself confirmed that viewpoint in a research note stating: "We're currently in front of a significant upgrade cycle as MSOs are driving fiber deeper into the network and performing node splits to enable smaller service groups."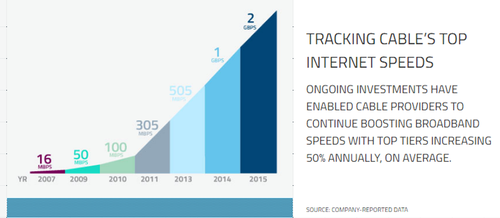 Beyond residential services, cable companies are also aggressively going after new business customers. Growth rates are significant (hovering around 17% for Comcast Corp. (Nasdaq: CMCSA, CMCSK), for example), but customer wins so far also represent only a tiny fraction of the entire addressable market. Part of the opportunity for cable companies comes in stealing market share away from telcos with existing infrastructure, but part also derives from upgrade needs that can only be served with new fiber.
Regarding fiber itself, some manufacturing companies may be having trouble keeping up with accelerated market growth. According to Jefferies, wait times for Corning Inc. (NYSE: GLW) fiber products are "out past 30 weeks," at least for smaller operators with un-forecasted demand. And Ting Internet recently acknowledged a slowdown for its gigabit launch in Westminster, Maryland specifically because of a fiber shortage. (See Gigabites: Farm Towns Find Fiber.)
If anything, trends in fiber demand may be the biggest indicator of telecom infrastructure investment plans. According to a report by Research and Markets, demand for fiber optic cable grew through 2014 and 2015 specifically because of incoming orders from wireline and wireless carriers.
Even more interesting, Research and Markets also predicted continued growth through the end of the decade, stating: "US growth in fiber optic cable consumption is expected to accelerate to an average annual rate of +3.0% in the medium term, increasing the market value up to $2.24 billion by 2020."
That's a compelling forecast. And one that certainly suggests more capex spending is on the way.
— Mari Silbey, Senior Editor, Cable/Video, Light Reading