You wouldn't necessarily know it by listening to some market analysis, or by tuning in to telco executives anxious to assuage investors, but a further rise in wireline network capex spending in the US may be on the horizon. Several vendors sound positively gleeful over their contract forecasts, and trends in video streaming and Internet of Things development continue to support the case for greater infrastructure investment.
According to research firm Ovum, there is strong downward pressure on telco capex spending globally because of recent revenue declines and the fact that many large operators want to reserve cash for big acquisitions like Verizon Communications Inc. (NYSE: VZ)'s buyout of Yahoo. However, that analysis may discount unexpected demand from smaller telecom operators, not to mention the massive commitments that some cable companies have made to upgrade their networks.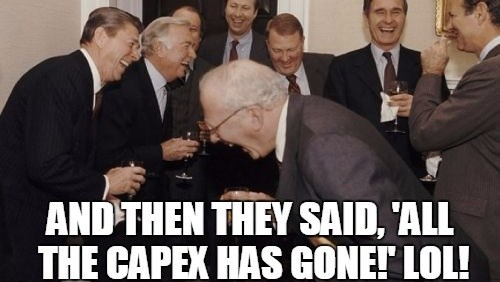 Even among the top US telcos, plans to put a cap on spending may prove difficult in the face of certain realities.
AT&T Inc. (NYSE: T)'s CTO Andre Fuetsch recently commented at the Nomura 2016 Media, Telecom and Internet Conference that capex is "certainly not going up. It's certainly going down." But Fuetsch was referring to efficiencies AT&T expects to gain through its move toward SDN, and, even with those efficiencies in play, AT&T is still bound by promises it made to the government to reach 12.5 million homes with gigabit broadband service over the next few years. Those promises were extracted as a condition of AT&T's acquisition of DirecTV, and so far the telco has only delivered on about 20% of its total commitment. (See For AT&T, Suddenly Capex Isn't a Dirty Word.)
---
The rollout of gigabit broadband access networks is spreading. Find out what's happening where in our dedicated Gigabit Cities content channel here on Light Reading.
---
Other US telcos aren't as far along with network virtualization as AT&T, and yet they're feeling much of the same pressure to expand their infrastructure. Verizon, for example, is starting a new fiber build in Boston after years of saying it was done with fiber-to-the-home expansion. The Boston project has the joint benefit of extending Verizon's wireline footprint while also giving it a foundation for wireless expansion in the city (Verizon is gaining right-of-way access for installing new wireless equipment in the deal) and the ability to test out new smart cities applications. (See Verizon Throws Surprise FiOS Party for Boston.)
Bottom line: Verizon said it was done with FTTH expansion, and now it's investing again. Analyst firm Jefferies believes that the Boston buildout even has room to grow. In a research note the firm stated: "We understand that the Boston project has the opportunity to get bigger."
Next page: What the vendors say