Cable One Gets Credit for Putting Pipes Ahead of Programming

12/13/2018

Comment (0)

Cable One is the latest cable operator to freshen up its image with a brand change, announcing Tuesday that the company will be known as Sparklight starting next summer. (See Cable One to Rebrand as 'Sparklight'.)
Cable One Inc. will remain the company's corporate name, but the consumer-facing brand change is a marketing play that has also been run by some of its US peers -- Comcast Corp. (Nasdaq: CMCSA, CMCSK) with "Xfinity," Charter Communications Inc. with "Spectrum" and Cablevision Systems (now part of Altice USA) with "Optimum."
More broadband and (a lot) less video
But Cable One's brand change also centers on the ongoing shift of the operator's services strategy -- to focus heavily on high-margin broadband, and to greatly de-emphasize (shun?) efforts tied to a declining (and much less profitable) pay-TV business.
That pipes-over-programming strategy also ties into how Cable One is portraying the new brand, holding that Sparklight "illustrates the speed and connectivity the company is known for."
Sure, that's a nice dose of marketing-speak. But, while Cable One's pivot away from a video-led strategy has prompted some skepticism, a top industry analyst, Craig Moffett with MoffettNathanson LLC , has begun to warm to it as it becomes clear that cable service product mix -- particularly when that mix is heavier on the broadband side -- is now increasingly important.
Certainly, fixating on "connectivity" hasn't been lost on other MSOs. Cablevision execs used to talk it up quite a bit. Comcast has likewise admitted that broadband has become the "epicenter" of its relationship with customers.
Still, those other cable ops have not ignored video to the degree that Cable One has. Comcast continues to invest in and enhance X1, and Altice USA recently unleashed some upgrades for its Altice One platform. (See Altice One Gets '2.0' Upgrade .)
Charter, according to industry sources, is preparing to greatly cut down investments in its own legacy QAM-based video infrastructure next year as it pumps more into new IP-based video tech and services. Speaking at an investor conference last week, Charter CEO Tom Rutledge stressed that "what we sell is a connective relationship to the customer," but quickly added that "[v]ideo is important to that." So, Charter's not about to relegate itself to simply being a dumb pipe.
And Cable One's broadband-first approach is not uniform among other mid-size US MSOs and smaller independent players. Many in that group have teamed up to develop and launch next-gen, multiscreen pay-TV products. Meanwhile, the National Cable Television Cooperative Inc. (NCTC) , an organization that does tech and programming deals for hundreds of tier 2/3 MSOs, has forged deals with two virtual MVPDs -- fuboTV and PlayStation Vue -- in case members want to provide an OTT-TV option to their broadband-only customers or retain the semblance of a video relationship when customers but cut TV from their service bundles. (See New Video Options Emerge for Indie Cable Ops .)
Warming up to Cable One's approach
As part of his updated view on Cable One, Moffett last week upgraded Cable One from "Sell" to "Neutral," and raised his target price on the stock to $875, from $543, based on a revised multiple of 11.7x EBTIDA.
A big reason for that is Cable One's heavier skew on broadband, which is simply a better business than video, and therefore ought to carry a higher EBITDA multiple, according to Moffett. Spotlighting broadband is central to Cable One's game plan, so it follows that the MSO should be trading at higher multiples.
And it is. Moffett notes that Cable One is trading at about 11x EBITDA, a 25% premium to Charter, 30% to Comcast's implied cable-only multiple, and a whopping 55% premium to Altice USA.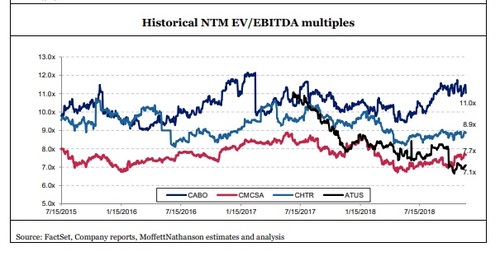 "By virtually any measure, broadband is a better business than video," Moffett writes. "Broadband has higher margins. It bears lower capital intensity. It is less competitive. And, of course, it has (much) better growth potential (which isn't saying much... broadband is growing nicely, while video is shrinking)."
Next page: Mix matters

Mix matters
Moffett also argues that the obsession over-cord cutting and the video business is unjustified, because cable investors pay more attention to broadband. When viewed through that lens, 5G and the potential impact it brings to broadband pricing is a greater threat to MSOs, Moffett believes. (See 5G Fixin' to Become 'Largest Existential Threat' to Broadband Providers – Analysts and Broadband Incumbents Should Be 'a Little Bit Nervous' About Starry – Analyst .)
Moffett calls Cable One, which claims to be losing money on video, "the perfect illustration of the resiliency of the cable-as-infrastructure model."
Though Cable One has lost about half of its video subs in the past four years and has the slowest broadband growth among its MSO peers, it has still seen margins expand and earnings steadily grow.
Moffett reasons that the market is "rewarding" Cable One for its position (or non-position) on video, and not due to any expectation that the company might be acquired. Moffett thinks the opposite -- that Cable One is well-positioned to be a buyer, in the mold of its acquisition of rural-focused cable op NewWave Communications in 2017, or its recent deal for Clearwave Communications, which added more fiber route miles and on-net businesses to Cable One's bag. (See Cable One Bids $735M for NewWave and Cable One Deals for Clearwave Communications .)
Moffett also argues that video subscriber losses aren't terribly important to cable economics or to their broader economic value.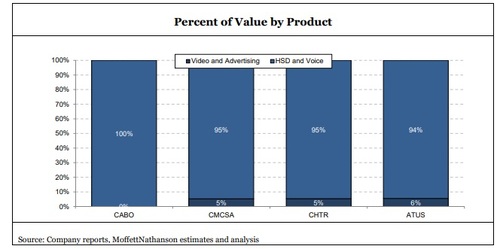 "And it also puts a finer point on the observation we've made for so many years now: cable companies are not media companies, they're infrastructure providers," Moffett said. "That infrastructure is all about delivering broadband."
In addition to delivering higher margins, broadband is also less capital intensive, as it's generally not associated with set-tops, video servers, cloud DVR storage and money that's put into fancy user interfaces and apps, but rather on modems and broadband infrastructure upgrades and enhancements.
Building on cable's broadband 'foundation'
Broadband, Moffett believes, is the "foundation" of cable's growth story. While there are questions about whether growth rates can be sustained, he also sees less certainty in its longer-term pricing power. As consumers drop cable video, broadband pricing reflexively rises as a standalone, unbundled service. Additionally, broadband ARPU also gets a lift when customers upgrade to higher tiers and by some usage-based pricing policies.
Pay-TV, meanwhile, is shrinking. "In short, video simply isn't a great business. In fact, it's not even a particularly good business," Moffett writes. (See OTT-TV Gains Slow to a Crawl in Q3, but Cord-Cutting Does Not – Analyst.)
But the pay-TV situation isn't bad enough, for many, to just give up on it. After all, the video businesses of Comcast, Charter and Altice USA are far better off than Cable One's, and are still profitable. Granted, those MSOs are much larger, so they enjoy lower programming costs and higher gross margins. When Cable One sheds a video sub, it's "essentially costless," Moffett points out.
Moffett underscored that he's not fully endorsing a product-centric approach to the basis of valuation. Cable One appears to be a special case, as its broadband focus deserves more credit than previously given.
"Still, it is helpful to consider each of the companies in our cable coverage through this lens and consider that current valuations imply," he said, suggesting that his past valuation methodology for Cable One "was too punitive" and that the market is already valuing Cable One strictly as a broadband business.
— Jeff Baumgartner, Senior Editor, Light Reading

(0) |