Mix matters
Moffett also argues that the obsession over-cord cutting and the video business is unjustified, because cable investors pay more attention to broadband. When viewed through that lens, 5G and the potential impact it brings to broadband pricing is a greater threat to MSOs, Moffett believes. (See 5G Fixin' to Become 'Largest Existential Threat' to Broadband Providers – Analysts and Broadband Incumbents Should Be 'a Little Bit Nervous' About Starry – Analyst .)

Moffett calls Cable One, which claims to be losing money on video, "the perfect illustration of the resiliency of the cable-as-infrastructure model."

Though Cable One has lost about half of its video subs in the past four years and has the slowest broadband growth among its MSO peers, it has still seen margins expand and earnings steadily grow.

Moffett reasons that the market is "rewarding" Cable One for its position (or non-position) on video, and not due to any expectation that the company might be acquired. Moffett thinks the opposite -- that Cable One is well-positioned to be a buyer, in the mold of its acquisition of rural-focused cable op NewWave Communications in 2017, or its recent deal for Clearwave Communications, which added more fiber route miles and on-net businesses to Cable One's bag. (See Cable One Bids $735M for NewWave and Cable One Deals for Clearwave Communications .)

Moffett also argues that video subscriber losses aren't terribly important to cable economics or to their broader economic value.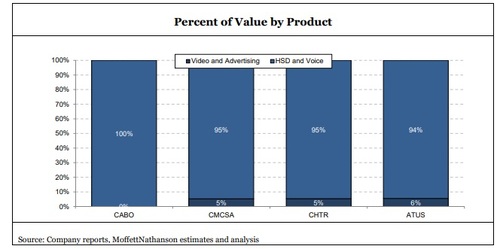 "And it also puts a finer point on the observation we've made for so many years now: cable companies are not media companies, they're infrastructure providers," Moffett said. "That infrastructure is all about delivering broadband."
In addition to delivering higher margins, broadband is also less capital intensive, as it's generally not associated with set-tops, video servers, cloud DVR storage and money that's put into fancy user interfaces and apps, but rather on modems and broadband infrastructure upgrades and enhancements.
Building on cable's broadband 'foundation'
Broadband, Moffett believes, is the "foundation" of cable's growth story. While there are questions about whether growth rates can be sustained, he also sees less certainty in its longer-term pricing power. As consumers drop cable video, broadband pricing reflexively rises as a standalone, unbundled service. Additionally, broadband ARPU also gets a lift when customers upgrade to higher tiers and by some usage-based pricing policies.
Pay-TV, meanwhile, is shrinking. "In short, video simply isn't a great business. In fact, it's not even a particularly good business," Moffett writes. (See OTT-TV Gains Slow to a Crawl in Q3, but Cord-Cutting Does Not – Analyst.)
But the pay-TV situation isn't bad enough, for many, to just give up on it. After all, the video businesses of Comcast, Charter and Altice USA are far better off than Cable One's, and are still profitable. Granted, those MSOs are much larger, so they enjoy lower programming costs and higher gross margins. When Cable One sheds a video sub, it's "essentially costless," Moffett points out.
Moffett underscored that he's not fully endorsing a product-centric approach to the basis of valuation. Cable One appears to be a special case, as its broadband focus deserves more credit than previously given.
"Still, it is helpful to consider each of the companies in our cable coverage through this lens and consider that current valuations imply," he said, suggesting that his past valuation methodology for Cable One "was too punitive" and that the market is already valuing Cable One strictly as a broadband business.
— Jeff Baumgartner, Senior Editor, Light Reading