Broadband Isn't What It Used to Be
The very definition of consumer broadband service is evolving, and not just because the FCC is reconsidering its speed threshold for when Internet access legally becomes broadband access. The definition is also evolving because of several business decisions the industry has made -- decisions about pricing, bundling and expanding into new service territory.
But let's start with that FCC notion first.
Under Chairman Ajit Pai, the Federal Communications Commission (FCC) is investigating the option of classifying some mobile Internet services as broadband with downstream and upstream speeds that max out at only 10 megabits per second and 1 megabit per second respectively. Those aren't bad numbers for mobile service, but they're far below the current threshold for broadband that former Chairman Tom Wheeler upped to 25 Mbits/s downstream and 3 Mbits/s upstream back in early 2015. (See FCC Sets 25/3 as New Broadband Bar.)
And that's not good news for underserved markets.
Consider this: AT&T Inc. (NYSE: T) just revealed that it's now delivering fiber-to-the-home broadband service to more than 2 million customers, and most if not all major US ISPs are working toward an increase in gigabit deployments. (See AT&T Spreads Fiber & G.fast Wings.)
However, those rollouts are taking place primarily in dense urban centers. What about the rest of the country? Not only are many, many communities not getting gigabit service, but now the FCC wants to lower the bar further on what ISPs aim to deliver by setting the downstream broadband rate at 1/100th of gigabit-speed offerings. Disparity, anyone?
Talk about creating the digital haves and have-nots.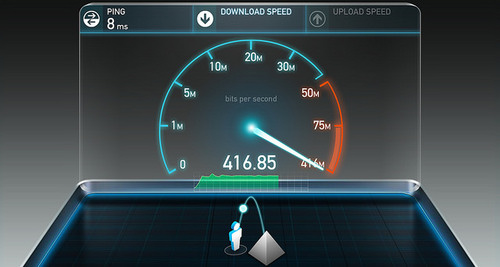 Let's take the definition of broadband a step further, however. While I disagree with the FCC's effort to lower broadband speed standards, I can appreciate the agency's attempt to bring mobile Internet into the bigger picture of broadband access. Mobile is becoming increasingly important to the Internet landscape as much because of how ISPs are marketing and selling wireless service as because of ongoing improvements to mobile Internet technology.
For example, major US carriers are doing their best to tack on video as a benefit to mobile data plans, thereby making mobile service more attractive. Operators are doing this both by excepting various video streaming services from mobile data caps, and by introducing over-the-top video packages in an attempt to net new revenue and reduce customer churn. The benefit to consumers is an option for cheaper TV service bundled with mobile Internet (e.g., AT&T's offering of DirecTV Now for only $10 per month when a customer also buys unlimited data). But the implications of the bundling trend run further.
If consumers use the bulk of their Internet bandwidth to watch video (and we do), then the incentive to pay for an additional fixed-line Internet service at home suddenly decreases. Mobile Internet may not be as fast as wired broadband, and any given OTT package may not have everything a consumer wants to view, but the cost savings of bundling both together presents a compelling proposition.
---
For more broadband market coverage and insights, check out our dedicated Gigabit/Broadband content channel here on Light Reading.
---
You can look at the situation conversely from a cable perspective. Large cable operators are also making the most of bundling TV with Internet service. They'd rather you not buy standalone broadband, so they offer discounts when you pick up a double-play or triple-play package. That strategy would seem to push mobile Internet service to the side, but cablecos understand that consumers are unwilling to give up Internet access on the go. (You can get mobile broadband anywhere, but home broadband stays at home.)
To that end, Comcast Corp. (Nasdaq: CMCSA, CMCSK) and Charter Communications Inc. are both getting into the mobile business, using Verizon's cellular network where necessary, but also relying on public WiFi hotspots as offshoots of their fixed-line network infrastructure. Ultimately, Comcast and Charter want to be your primary Internet provider, whether you're accessing that service over a wired or wireless connection. (See Comcast Rings In Xfinity Mobile Nationwide.)
What's my point in all this? The convergence of wired and wireless services is accelerating. Analysts and pundits are already talking about the potential threat of 5G wireless technology to traditional cable broadband service, but the reality is that the competitive fight is increasingly going to be less about wired versus wireless service and more about which ISP can provide the best connectivity option for however consumers most frequently use the Internet.
I'd rather not lower consumer expectations for broadband performance as the FCC is proposing, but defining broadband service as either strictly wired or wireless makes less and less sense every day.
Broadband is moving beyond those distinctions. And both cable and telecom providers know it.
— Mari Silbey, Senior Editor, Cable/Video, Light Reading