Have you noticed how a fire has been lit under the high-speed fixed broadband sector recently? For years, developments in xDSL and FTTX were largely overshadowed by the arrival of 4G mobile broadband and the smartphone revolution but now there's a welter of activity around fixed access broadband again, with Gigabit Cities, Ultra-Broadband and G.fast amongst the terms and technologies in the spotlight.
What's driving this resurgence? (For evidence, just check in regularly to our Gigabit news channel.)
In terms of Gigabit Cities, Google's FTTH efforts, the introduction of DOCSIS 3.x by cable operators, the hope that Gigabit investments will spur economic activity and, to some extent, the availability of Connect America Fund (CAF) investments have driven demand for technology and created a more vibrant competitive environment in the US. (See Comcast Gigs Out in Nashville, Charlotte Not Resting on Its Gigabit Laurels and Google Will Accelerate Fiber, Cloud in 2016 as just a few examples.)
In Europe, competitive carriers and incumbents have been ramping up activity around fiber access and plans to deploy G.fast technology to super-charge copper lines. And in Asia/Pacific, China has been a focal point for fixed and 4G broadband investments, driven by government policy. (See DT Eyes FTTH Solution to German Opex Issue, DT Looks to XG.FAST as Ultra-Fast Option, NBN Looks to G.Fast to Reduce Fiber 'Hassle', Telecom Italia Accelerates FTTx, 4G Investments and Adtran Boasts 60 G.fast Trials.)
For sure there is a general underlying shift towards a digital society, something that can't happen without truly high-speed broadband connectivity.
But, for me at least, it's 5G that has fanned the fixed broadband flames. For sure, the 5G end game might involve incredibly high-speed wireless connections (up to 10 Gbit/s with sub-millisecond latency) but that's in the future, in the next decade. Right now, though, the smart network operators have fixed broadband (and the transport networks further back in the network) at or near the top of their 5G "to do" lists. (See BT's Broadband Chief Preps for 5G With FTTx Plans.)
That's because 5G as the next generation of ultra-fast wireless broadband just won't happen unless there's a dense fixed broadband network in place to provide the backhaul -- and, indeed, the fronthaul -- for 5G. In order to support high-quality (very important!) bandwidth-hungry video and cloud services that advanced 4G and then 5G will increasingly enable, a dense network of distributed small cells and IT resources will need to be deployed and each of those small cells and IT nodes will need an ultra-broadband, low latency connection in order to support service level agreements and deliver acceptable levels of customer experience. (See What the [Bleep] Is Fronthaul?)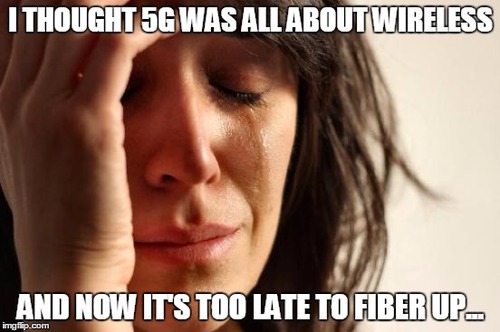 Of course, these same fixed broadband lines can, and will, also be used to offer "regular" business and consumer broadband services and, from a broadband services strategy perspective, I agree with my friend Richard Jones from Ventura Team , who believes that first mover advantage in terms of delivering a fiber connection is absolutely key: "Be first or be somewhere else," he advises. (See Top Tips for FTTH Operators.)
These high-capacity access connections, of course, need a superhighway of capacity behind them, in terms of backhaul from central offices/local exchanges and aggregation points, while metro, inter-data center and long-haul connections all need to be up to the task of supporting the future and somewhat unknown demands of a 5G world.
If I was to print off a t-shirt to wear at industry events between now and 2020 I think it would say 'Beware the Bottleneck' -- and those bottlenecks can exist at any point from end-to-end on any network connection, whether global or very local.
There's no doubt that the world of technology and communications has become far more mobile-, cloud- and software-oriented during recent years, but the foundations of success for virtualization, the cloud and 5G rest on the shoulders of high-speed fixed networks. That's the starting point for the next generation and those that get too caught up in the buzz of 10 Gbit/s wireless right now will soon find themselves chasing the leaders.
And remember -- Beware the Bottleneck!
— Ray Le Maistre,

, Editor-in-Chief, Light Reading