Average Internet speeds are improving in the US, but they're still nowhere near the broadband threshold that the FCC recently defined as 25 Mbits/s downstream.
According to Akamai Technologies Inc. (Nasdaq: AKAM)'s latest quarterly State of the Internet report, only the top six states in the US -- Delaware, Virginia, Washington D.C. (OK, not technically a state), Utah, Massachusetts and Rhode Island -- boast average connection speeds above 15 Mbits/s. The overall average Internet speed across the country tops out at 11.9 Mbits/s. That's 13% higher than last year's average, but ranks the US at only number 19 in the world for fastest connection speeds.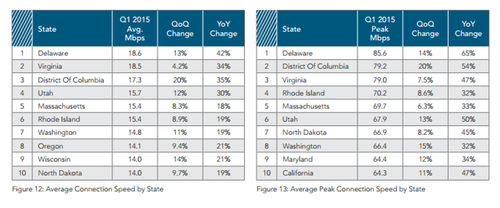 Interestingly, average peak speeds are growing at a faster clip than just average speeds. Nationally, the average peak speed jumped 31% from the first quarter of 2014 to the first quarter of 2015. That number now sits at 53.3 Mbits/s. The difference in growth rates means there's an increasing disparity between the highest broadband speeds users are enjoying and the average connection speeds that most Americans access. In other words, the highest-end broadband experience is improving at a faster rate than the average broadband experience.
As Akamai notes, part of the reason Internet speeds are increasing is because of the trend toward gigabit broadband services. In the first quarter of 2015 alone, Akamai cites at least half a dozen new gigabit city launches, and many more are planned through the rest of 2015. (See Comcast Tees Up More Gigabit Markets and Portland Leapfrogs Google's Gigabit Queue – Report.)
---
The rollout of Gigabit broadband access networks is spreading. Find out what's happening where in our dedicated Gigabit Cities content channel here on Light Reading.
---
Currently, Delaware tops all states in both average connection speed and average peak connection speed with numbers at 18.6 Mbits/s and 85.6 Mbits/s respectively. Alaska holds the record for lowest average connection speed at 8.2 Mbits/s. Kentucky takes last place for lowest average peak speed at 37.1 Mbits/s.
Globally, Singapore wins the prize for the highest average peak speed at 98.5 Mbits/s. South Korea has the highest average speed at 23.6 Mbit/s -- a rate that still doesn't meet the Federal Communications Commission (FCC) 's definition of broadband.
— Mari Silbey, Senior Editor, Cable/Video, Light Reading