Arris is revving its engines in the wireless business, but can't make a move off the starting block until it completes a plan to acquire Ruckus, which must still break free of Brocade.
In an otherwise strong second quarter, Arris Group Inc. (Nasdaq: ARRS) wasn't able to close a deal to buy Ruckus Wireless Inc. because of a related transaction between Brocade Communications Systems Inc. (Nasdaq: BRCD) and Broadcom Corp. (Nasdaq: BRCM) that is still under federal regulatory review. Broadcom is in the process of trying to buy out Brocade while also spinning off the Ruckus assets to Arris and Brocade's data center business to Extreme Networks Inc. (Nasdaq: EXTR). However, that plan hit a snag in July when the Federal Trade Commission expressed concern over the buyout of Brocade.
The upshot is that Broadcom must get approval for its acquisition of Brocade before Arris can swoop in on Ruckus, and that approval now appears to be in doubt. (See Brocade, Broadcom Merger in Doubt.)
Arris, for its part, is still moving forward under the assumption that it will be able to bring Ruckus in house. In its second-quarter earnings call, Arris announced that it now expects the Ruckus deal to close in early Q4, rather than August (or even earlier) as originally expected. But if the deal doesn't go according to plan, it could have a major impact on Arris's strategic roadmap, including plans to enter the enterprise market and significantly expand its wireless offerings. (See Is Ruckus Right for Arris?.)
---
For more cable market coverage and insights, check out our dedicated cable content channel here on Light Reading.
---
In the here and now, Arris reported positive results for the second quarter. The company announced revenues of $1.67 billion, slightly above average analyst estimates, and earnings per share of $0.63, above both analyst estimates and Arris's own forecast for the quarter of $0.55-$0.60 EPS.
In the customer premises equipment business, Arris cited solid demand for both new DOCSIS broadband devices and hybrid QAM/IP cable set-tops. Both the telecom and satellite TV sectors continue to be soft, but Arris did mention a new international satellite win that it expects to come to market in late 2018. In cable, the DOCSIS 3.1 upgrade cycle is also accelerating, and Arris noted that it has extended D3.1 trial and deployment activities with new customers, including with Canadian operators syndicating Comcast Corp. (Nasdaq: CMCSA, CMCSK)'s broadband platform.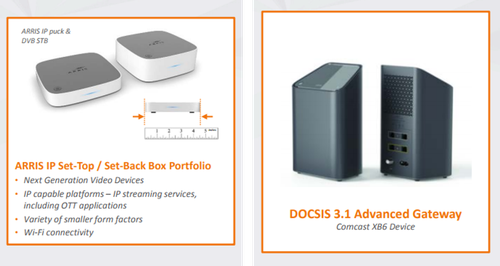 On the network and cloud front, sales were also strong for Arris in the quarter. In particular, Arris increased software license sales for its E6000 CCAP platform as cable operators continued to expand capacity in their networks. That expansion progressed even as customers wait for the next-generation downstream line card for the E6000, which is scheduled to start shipping in Q3.
Also of note, Arris said several customers are moving forward with distributed access architecture (DAA) trials, a migration that involves both updates to the E6000 chassis and Arris fiber nodes. Arris expects its complete DAA solution to be ready commercially in the first quarter of 2018.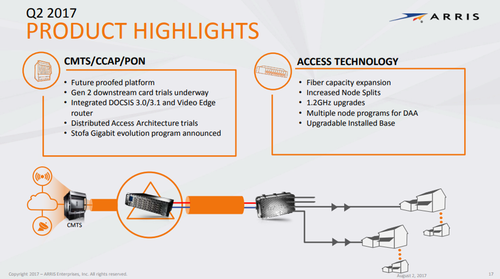 Speaking of network nodes, Arris is also benefiting from increased node splits as operators drive fiber deeper into their networks. Those nodes can take a number of different forms, depending on how operators are serving their subscribers. Today, most Arris nodes are being used for traditional HFC support, i.e. networks that terminate fiber at the node and continue to each final destination via coaxial cable. However, Arris also makes a PON module that can be added to a node for operators that want to take fiber further, and the company is looking ahead to a time when operators might extend coverage wirelessly from the same point.
The wireless connection leads right back around to Ruckus, which Arris CEO Bruce McClelland acknowledged in the company's earnings call.
"Ruckus, with [its] technology both indoor and outdoor, I think there's great collaboration opportunities to leverage the footprint of nodes we have and extend that wirelessly as well," said McClelland.
For Arris, closing the Ruckus deal will solidify the company's growth plan going into 2018. Operators and the enterprise industry alike are pushing toward greater convergence in wired and wireless networking. Arris is well positioned to help that cause, but it will be a much stronger player with Ruckus at its side.
Now if only it can get the Ruckus deal done...
— Mari Silbey, Senior Editor, Cable/Video, Light Reading