Arris Reels in Ruckus – Why I Like This Deal

Comment (0)
Arris isn't a household name, and its $800 million acquisition of Ruckus Wireless and the ICX Switch business from Broadcom -- which closed today -- hardly even registers on the M&A watch list compared to megadeals like AT&T's $85 billion proposal to buy Time Warner or Broadcom's $105 billion hostile bid to take over Qualcomm.
However, that doesn't mean the Arris Group Inc. (Nasdaq: ARRS) deal is unimportant. (See Arris Completes Acquisition of Ruckus, ICX Switch Business.)
Quite the contrary. I expect the deal to have an outsize impact on the industry, both because of where Arris has been as a company, and where the communications sector as a whole is headed.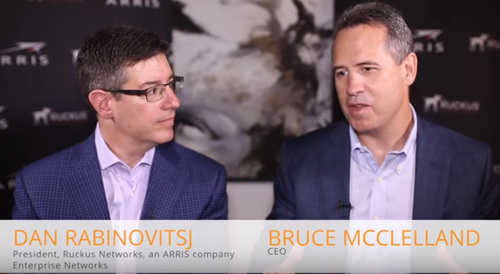 The investment community has pointed out the risks of Arris entering both a new technology domain (wireless) and a new customer market (the enterprise) at the same time. (See Is Ruckus Right for Arris?)
But that doesn't take into account the fact that these specific technologies and customer markets are converging already. The current deal-making between the wireline and wireless sectors illustrates as much, as does the trend toward cloudification, which is drawing the aims of the enterprise and the aims of network operators ever closer together. On the technology side, Arris is inoculating itself against obsolescence by combining new wireless expertise from Ruckus with its own wireline technology and workforce. On the customer side, the company is bridging two industries that are already starting to develop a joint ecosystem. (Telecom Infra Project (TIP) , anyone?)
Better that Arris make that move now than wait until its competitors try to do the same.
And let's talk about that enterprise market for a moment.
It may seem odd for Arris to extend itself beyond the network operator industry when it has been so successful with that customer audience, but if you think about it, that's exactly what Arris' customers are doing. Pay-TV operators are using commercial services to offset losses in their traditional video business. And likewise, Arris is looking to balance inevitable declines in the video set-top sector -- where it still brings in the bulk of its revenue -- with enterprise networking growth.
Further, while Ruckus gives Arris a jumpstart into the enterprise market from an existing customer perspective, the technology Arris gains from the deal also lets the company make use of another inherent advantage that it wouldn't otherwise be able to leverage. Namely, with the Ruckus product portfolio in house, Arris can now try to tag along with its operator customers as they continue to build up their own enterprise relationships. What better way to stimulate growth than by entering into an industry where your existing customers can also provide a new sales channel?
To be sure, how well Arris succeeds with its new assets will depend entirely on execution, but it would be silly to underestimate the potential here.
As CEO Bruce McClelland says in an Arris video interview, "The vision is we're going to become one of the largest technology companies providing technology and services to both carriers and enterprise. We have a huge runway ahead of us in that area."
— Mari Silbey, Senior Editor, Cable/Video, Light Reading