An independent analysis of the $98 billion wireline US business telecom market confirms several ongoing trends, including the cable industry's encroachment onto telco turf. The report also shows some widely varying strategies that are allowing companies such as CenturyLink and Windstream to do better among national businesses, while cable operators such as Altice and Cox achieve higher penetration within their local footprints.
Industry veteran Matt Davis, now the principal analyst with Independence Research LLC, did a deep dive into individual company financials and combined that with some of his own estimates to produce "SMB & National Enterprise Market Trends Report," which includes both an evaluation of the overall market breakdown and detailed assessment of top players. You can see an abridged version here.
The key trend Davis notes is that cable is successfully moving upmarket from its well-established SMB play into what the analyst calls the National Enterprise segment, which includes both mid-market regional players and national companies with multiple locations. This segment generated $24 billion in wireline revenues for cable and telco units in 2017, with 80% going to telecom players and 20% to cable in 2017, a 4% swing in cable's direction from 2016. That means cable's share increased almost $500 million year over year, Davis reports.

"A 4% swing doesn't look like very much, but it is a fair amount of revenue," he comments. That would grow much faster if cable can fully realize a distributed enterprise play which is built on partnerships of cable players, including the two big national footprints of Charter Communications Inc. and Comcast Corp. (Nasdaq: CMCSA, CMCSK), he adds.
"If they take that strategy where they might win remote office contracts and partner with Charter or Comcast and do cable-first for remote access and then once you get a good portion of the remote connectivity, then you sneak in and try to take the Ethernet services and higher-end stuff," Davis comments.
SD-WAN helps further that approach by enabling cable to offer services outside their footprint where they don't own the pipes.
Davis credits players such as CenturyLink Inc. (NYSE: CTL) and Windstream Communications Inc. (Nasdaq: WIN) with leveraging key M&A activity -- CenturyLink bought Level 3 and Windstream acquired Earthlink and Broadview -- to "basically punch above their weight" when it comes to this national enterprise group.
"They have taken on the strategy to focus on the mid-market and from the research that I have been looking at, it produced dividends," Davis says. Both companies were under pressure from Wall Street, especially in 2017, because they were losing legacy revenues faster than they grew their newer strategic services, he admits. (See Investors Flee US Rural Incumbents.)
"They have had hard times but they did something about it," Davis says. They decided "to aim at this mid-market segment that is competitive, it is a potential area of growth."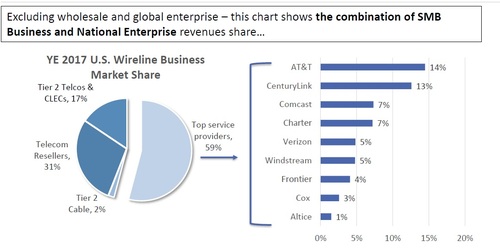 By his analysis, US small businesses, with less than $2000 a month in communications spending, generate about $26 billion in revenues and the national enterprise group is the largest at greater than $27 billion. Global enterprise at about $24 billion and wholesale at about $20 billion constitute the rest.
CenturyLink, with 13% of the combined national enterprise/SMB market, ranks just behind AT&T Inc. (NYSE: T) (14%), while Windstream is essentially tied with Verizon Communications Inc. (NYSE: VZ) at 5%. Comcast and Charter are both at 7%.
"They have done an incredible job being more than an ILEC and more highly penetrating across the nation," he says.
On the cable side, Davis sees Altice USA and Cox Communications Inc. doing a much better job of penetration within their own local service footprints, with rates of 50% and 38% respectively. That's a double-edged sword, he notes.
"On the one hand, because they are highly penetrated they are now running out of run room," Davis says. "On the other, they have demonstrated an excellent ability to take share."
Meanwhile, Comcast and Charter aren't nearly as highly penetrated so they have lots of potential upside, even if they haven't done as much with their existing turf to date, he notes, adding that Charter is showing signs of significant investment in its Spectrum unit.
AT&T continues to be the largest provider of services, even as its numbers may not reflect its true impact, given that the company has a very strong channel partner program and those numbers may be reflected more in the wholesale revenues, Davis notes.
---
What are the biggest architectural and technology options network operators face as they update and build new transport networks to support 5G? Find the answers at the 5G & Optical Transport breakfast workshop at NGON & DCI Europe in Nice, France on June 26. The event is free for all attendees!
---
As for Verizon, he expects to see things pick up a bit following its most recent reorganization and assimilation of XO Communications, pointing to Jake Heinz, the new chief marketing officer, as someone who could help the company refocus its efforts.
"SMB is under Heinz as well, and they never got any love from Verizon before - they are woefully under-penetrated -- so I expect to see some changes there," Davis concludes.
The report also assesses the impact of SD-WAN on the business market and the growing push to improve customer experience through automation and customer portals.
— Carol Wilson, Editor-at-Large, Light Reading