5 Missing Headlines in 2017
No one was expecting peace in the Middle East this year, or a sudden wave of female engineers entering the telecom industry. I mean, let's not kid ourselves after all. But there are a few things that were supposed to happen in telecom in 2017, and somehow the powers-that-be just missed the memo.
As we count down to the New Year, here are five headlines that never made it to the top of the Light Reading home page. Of course, 2017 isn't officially over yet, but I'm placing my bets now and singing my own rendition of "Auld Lang Syne." This year's a done deal. Stay tuned for the next.
Missing Headline #1: All Hail the New Infrastructure Bill!
In the giddy early days of 2017, vendors and ISPs talked excitedly about the prospect of new broadband investment brought on by President Trump's huge promised infrastructure bill. Sen. Brian Schatz (D-HI) threw cold water on that idea pretty fast, however, pointing out that for one thing, healthcare and tax cuts were likely to rank higher on the legislative priority list, and for another, finding consensus on what an infrastructure bill should include wouldn't be easy. (See Sen. Schatz: No Big Infrastructure Bill Coming.)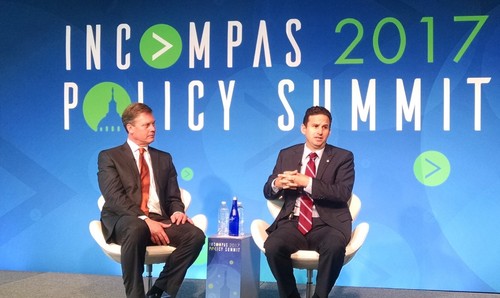 As it turns out, Schatz's pessimism was well-founded. In August, Trump dropped plans to create an infrastructure advisory council, and even though the president's chief economic advisor, Gary Cohn, said the administration was still aiming to pass a bill before the end of the year, nothing has come to light since. Could we be looking at 2018 for an infrastructure package? Perhaps. But it's also possible that the administration will fall back on tax cuts instead as its preferred method of broadband stimulus. (See Outlook Bleak for Infrastructure Bill in 2017.)
Missing Headline #2: AT&T Sweeps Up Time Warner With DoJ's Blessing
The AT&T/Time Warner narrative certainly veered off course in 2017. The proposed $85 billion acquisition of Time Warner Inc. (NYSE: TWX) was supposed to pass regulatory muster given the similarity of the deal to Comcast Corp. (Nasdaq: CMCSA, CMCSK)'s earlier purchase of NBCUniversal LLC . But the US Department of Justice nonetheless found reason for objection and refused to approve the transaction without an agreement from AT&T Inc. (NYSE: T) to divest itself of either DirecTV or Turner Broadcasting. DoJ Sues to Block AT&T/Time Warner.
AT&T is now headed to court to fight the DoJ's decision, but the deal has raked up additional concerns over vertical integration of content and distribution companies in the industry at large. Sen. Richard Blumenthal (D-CT) has written to Assistant Attorney General of the Department of Justice's Antitrust Division suggesting that the DoJ may need to consider breaking up Comcast and NBCU if it investigates the business and finds an anti-competitive threat. That seems a highly unlikely outcome in the current political climate, but just the fact that the prospect has been raised is worthy of note. Particularly now that the conditions imposed on Comcast as part of the NBCU merger are close to expiring.
Missing Headline #3: Dish Sells to...
That fill-in-the-blank headline was supposed to reference a cable company, or maybe Google (Nasdaq: GOOG), AT&T or Verizon Communications Inc. (NYSE: VZ). Alas, Dish Network LLC (Nasdaq: DISH) made it through another year without a sale and now it has to make good on its commitment to deploy a new mobile network with its mounds of wireless spectrum. Unfortunately for Dish, the network investment comes at the same time that its core video business is declining rapidly.
As analyst Craig Moffett put it, Dish may have valuable spectrum assets, but the supply of buyers is still limited to the few companies that can both afford a purchase and make use of the satellite company's particular spectrum holdings. Apparently there's no match made in heaven for Dish, and now the company has to venture forth still alone into 2018. (See Time May Have Run Out for Dish Buyout and Analysts: Dish Is in Dire Straits.)
---
For more broadband market coverage and insights, check out our dedicated Gigabit/Broadband content channel here on Light Reading.
---
Missing Headline #4: FCC Renews Bright Line Net Neutrality Rules
It was no secret that the FCC under new Chairman Ajit Pai planned to roll back Title II classification of Internet service providers, but it did come as a surprise when the agency circulated a notice of its intention to get rid of bright line net neutrality rules at the same time. Those rules -- no blocking, throttling or paid prioritization -- have proven more or less acceptable to ISPs since they were introduced in 2015, and many service providers said repeatedly that they'd continue to abide by the principles even if the FCC no longer exercised the authority to enforce them under Title II.
But business is no fun without a little controversy right? Thus, when the FCC voted last week to repeal the 2015 Open Internet Order, it nixed the bright line rules right along with ISPs' common carrier status. Next up? Court battles and Congressional tug of war, much of which will undoubtedly drag on past the holidays. (See FCC Ends Net Neutrality and Net Neutrality Heads to Court & Congress.)
Missing Headline #5: Verizon Unveils Next-Gen Fios Platform
Fios TV service was revolutionary when Verizon introduced it more than a decade ago, but then the telco turned its attention to the wireless business, and gradually the video platform began to show its age. There have been hints of a system overhaul for years, but no concrete evidence until Verizon showed off a new Fios TV service at Mobile World Congress in February. The new IPTV platform was supposed to debut later in the year, but after many delays, the word now is that the entire IPTV project has been cancelled. (See Verizon's New Fios TV Is No More.)
I personally find it unlikely that Verizon steps back from the IPTV business entirely, and the company has said it will continue to pursue some sort of IPTV venture going forward. That service won't launch in 2017, however, and who knows if, when it does make it to market, the offering will be branded Fios at all.
— Mari Silbey, Senior Editor, Cable/Video, Light Reading