A grassroots campaign is taking off to combat a new proposal at the Federal Communications Commission to redefine broadband using slower, more expensive cellular data services. The Mobile Only Challenge movement is asking people to use only their mobile devices for an entire day of Internet access in January and then share those experiences on social media, in advance of a Feb. 3 vote, using the hashtag #MobileOnly.
Analysts and rural broadband advocates have been warning for months now that the Federal Communications Commission (FCC) under Ajit Pai wants to weaken the definition of broadband established under former FCC Chair Tom Wheeler at 25 Megabits per second downstream and 4 Mbit/s downstream by allowing 10 Mbit/s-1 Mbit/s wireless broadband services to suffice. Such a move would alleviate the need for further action by the FCC to get broadband coverage to rural areas that are more expensive to reach with high-speed services.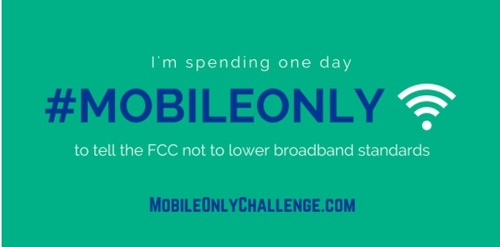 CCG Consulting and DSL Reports are both saying the vote will take place on Feb. 3, as part of this year's report to Congress on the state of broadband in the US. It was in just such a report back in 2015 that the Wheeler FCC changed the definition of broadband to 25Meg/4Meg, putting a greater onus on broadband service providers to invest to get better connectivity to rural areas. By counting cellular data speeds at 10Meg/1Meg as a broadband substitute, the current FCC could then report much better broadband coverage without requiring further investment by network operators at all.
"That is a significant change, because by law, the FCC is mandated to work towards bringing broadband to any parts of the US that don't have it," notes CCG analyst Doug Dawson . "In effect, by a definition change the FCC will have done away with a lot of the digital divide. And if they lower the definition of landline broadband they will categorize even more homes as having adequate broadband."
The problem is that cellular data is much less reliably measured and, when consumed in quantity, much more expensive, notes Dawson. Service providers can say they are providing 10Meg/1Meg service based on what a cellular tower is transmitting, but what a consumer receives may be very different. In addition, the FCC is not including an estimate of affordability, nor taking into account latency issues with cellular service.
---
Want to know more about gigabit strategies? Check out our dedicated gigabit content channel here on Light Reading.
---
A group of opponents to the FCC proposal, led by Public Knowledge , Next Century Cities and others, is hoping to use the "Mobile Only Challenge" to build a grassroots effort to oppose the FCC.
"Rural, minority, and lower-income communities, which often face the most challenges relating to broadband, would be harmed the most from an FCC determination about the availability of broadband that is at odds with reality," said John Bergmayer, senior counsel at Public Knowledge, in a statement last fall. "In a world where communities are crying out for help to participate in modern society, an agency tasked with acting in the public interest should not take a step backward that will make it more difficult for communities with deficient broadband to get the help they need."
For his part, Pai has long held that mobile Internet service was enough, as Ars Technica noted here. As a new FCC commissioner, he criticized his colleagues for not considering "all broadband services meeting the statutory definition regardless of the technologies used to deploy them."
— Carol Wilson, Editor-at-Large, Light Reading