Is anyone else getting the feeling that Bob Garfield isn't wild about Comcast Corp. (Nasdaq: CMCSA, CMCSK)?

After venting his rage last month in Advertising Age, detailing in his column some less-than-stellar installation and customer care experiences he's had with the MSO in Maryland, he followed up with the launch of a blog titled ComcastMustDie! (dot com).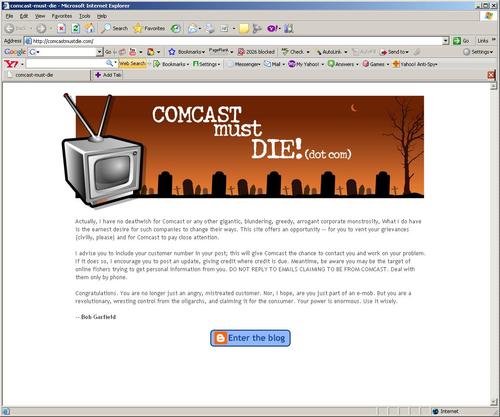 The site greets visitors thusly:


Actually, I have no deathwish for Comcast or any other gigantic, blundering, greedy, arrogant corporate monstrosity, What I do have is the earnest desire for such companies to change their ways. This site offers an opportunity -- for you to vent your grievances (civilly, please) and for Comcast to pay close attention.


More than 30 comments had been posted there as of late Monday afternoon, the majority relaying their own complaints about customer service, the availability of video-on-demand services, and service fees.

One poster, however, wondered what all the commotion was about, writing: "I cannot believe that anyone could get this angry over something like Cable Service." The same person also warned others not to post their customer numbers on the blog so they aren't exposed to privacy perils.

A Comcast spokeswoman told Multichannel News that the operator worked to fix the problem after Garfield's column.

"I can't overstate how important it is that we get it right for all of our customers," the spokeswoman told the pub.

When you're the largest cable operator on earth, it seems the target on your back can be proportionately as big. Just ask the former execs of Tele-Communications Inc. (TCI) and what was once known as AT&T Broadband. They've all felt the sensation of a few arrows to the back.

— Jeff Baumgartner, Site Editor, Cable Digital News