Skype App Detects Liars

Comment (10)
Skype Ltd.
users can now download an add-on application that listens for lies coming out of the phone.
The "KishKish Lie Detector," as it is called, was cooked up by Skype third-party developer
KishKish
, a wholly owned subsidiary of
BATM Advanced Communications Ltd.
(London: BVC). BATM also owns the Ethernet routing and switching company
Telco Systems (BATM)
. (See
Ethernet OAM & Demarcation Devices
and
Telco Systems Makes Critical Buy
.)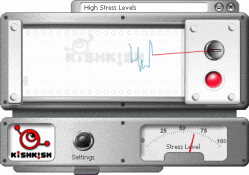 The new
application
is available for download at the "Skype Extras" area of the Skype Web site. (See
Skype Sells Unlimited VOIP
.)
BATM and Skype say the new application analyses the audio streams of a Skype call and monitors the stress levels in the caller's voice. "This allows you to gage the level of stress and modify your questions in real time," Skype explains at its Web site.
Skype spokeswoman Jennifer Caukin could neither confirm nor deny the software's social implications. "Well I can't really speak to their software, because it isn't something we own or that we've released; it's owned by this third party," she says. (See
Skype Unveils Beta 3.0
.)
— Mark Sullivan, Reporter,
Light Reading