Google: Resistance Is Futile...

9/28/2006

Comment (12)

Internet IM/VOIP services offered by Skype Ltd. and MSN Messenger have millions of users, but can't talk to one another. Google (Nasdaq: GOOG), however, says its Google Talk product is built on the sort of open standard that will eventually "federate" all the instant messenger and VOIP clients out there.

Google Talk product manager Mike Jazayeri likens the situation to the early days of email, when only people using the same client could email one another. Eventually they all adopted one open standard allowing all clients to interoperate.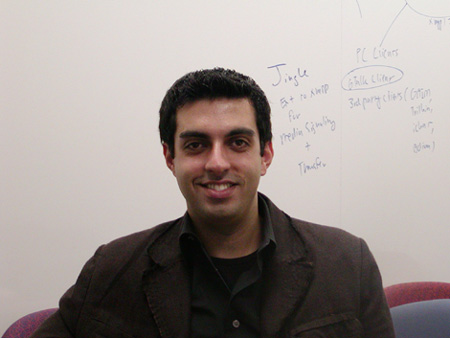 For Internet-based VOIP, Google believes its XMPP -- also known as Jabber -- is that standard. "We said we were going to use an open standard from day one," Jazayeri says. Other IM clients such as Apple Inc. (Nasdaq: AAPL)'s iChat and Cerulean Studios' Trillian also are underpinned by the XMPP standard. (See Google Jabbers On.)

When email federation happened, usage of email exploded. Usage of wireless text messaging also grew exponentially after the wireless service providers adopted the common SMS standard enabling, for example, a Cingular Wireless customer to send messages to a Sprint Wireless (NYSE: PCS) customer.

"We think it's inevitable that IM starts using an open standard," Jazayeri says. If and when that happens, and if history is any guide, the spike in usage could take away still more call minutes from the wireline, wireless, and VOIP services of traditional voice providers.

The movement of IM/VOIP clients onto wireless devices also may help bump up usage. Jazayeri points out that Nokia Corp. (NYSE: NOK), Sony Corp. (NYSE: SNE), and BlackBerry (Blackberry) have built Google Talk into their wireless devices, effectively freeing the IM/voice service from the PC desktop. (See Nokia Adds Google Talk.) Of course Google isn't the only IM/voice provider claiming to use an "open" standard -- Yahoo Inc. (Nasdaq: YHOO) and Microsoft Corp. (Nasdaq: MSFT) make similar claims. Jazayeri argues that Google Talk's XMPP is the only IM standard that's been approved by a real industry body, the Internet Engineering Task Force (IETF) . (See Jabber Jingles All the Way.)

"Microsoft will tell you that their client is SIP compliant, but what they mean is that in their enterprise product they support SIP, but not their consumer product," Jazayeri says.

Yahoo's senior director of voice product management Jeff Bonforte told Light Reading some months ago that he is reluctant to open his service to others, for security reasons. VOIP has its own flavor of spam, called "SPIM," and Bonforte says he doesn't want to subject his users to the abuses of unscrupulous users from other services. SPIM can arrive as a junk IM or as a recorded or live voice call from somebody somewhere selling something. (See Yahoo Launches VOIP Service.)

Jazayeri isn't having it. "It's a smokescreen," he says of Bonforte's reasoning. Jazayeri says SPIM filtering technology has advanced to a point where the vast majority of the stuff is blocked. Google Talk users have control over their buddy lists, he explains, and the client won't take IMs or calls from strangers. "That has resulted in zero SPIM on our network," Jazayeri says.

While some competing IM companies allow their software clients to interoperate, most are closed to outsiders. Microsoft's MSN Messenger struck a federation agreement with Yahoo's Messenger product last October and, the companies say, it created the largest IM community in the world with around 275 million users. (See MSN, Yahoo Link IM Services.)

eBay Inc. (Nasdaq: EBAY)'s Skype service remains closed, but a recent advertising agreement between Google and eBay could lead to a peering arrangement with Google Talk users. Jazayeri says such an interconnection would allow the exchange of IMs between the two services, but not necessarily voice. (See Google, EBay Team .)

Whether or not a given service is open depends a lot on when it entered the market. "You can look back at history and see that people who came in early went to the walled garden approach -- email was almost entirely walled garden in its early days," Jazayeri says. Services that picked up a large user base early on tend to wall their users in, he contends, while later entrants have less to lose and more to gain by federating.

Regardless, as services begin to catch on, Jazayeri says, the "walled garden" players are eventually moved by consumer demand to open their services to others. Players that don't "will have a very difficult time."

— Mark Sullivan, Reporter, Light Reading



(12) |