2/25/2009

Comment (0)

1:40 PM -- STANFORD, Calif. -- Granted, you wouldn't expect the CEO of eBay Inc. (Nasdaq: EBAY) to slag on Skype in public. So maybe I'm not reporting anything shocking when I say John Donahoe says he's thrilled with Skype's financial situation.

"I'll take a $500 million business growing at 30 to 40 percent with high teens margins," he said at today's Stanford Accel Symposium, an annual gathering for investors and entrepreneurs.

Table 1: Skype Revenues

Fiscal Year
Revenues ($M)
2006

189.1

2007

364.6

2008

525.8

For fiscal years ending Dec. 31.
Source: eBay
It's been noted that Skype hasn't produced much benefit for eBay itself or for
PayPal
, and Donohoe didn't deny that. The top priorities for Skype and PayPal don't overlap at all. That's OK. Skype is a "great standalone growth seed in our portfolio," he says.
Donohoe was the kickoff speaker for the event, which is organized by
Accel Partners
and hosted by
Stanford University
in a new alumni center that was conveniently built with no parking added. This picture, taken during a coffee break, might give you a flavor for the wood-toned,
HGTV
airiness of the place: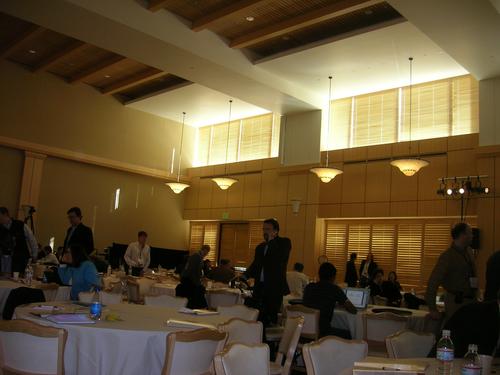 The event, built around the hot tech topics of the day, is consistently good, even though it's not held at a
superior university
. Right now, Matthew Barzun of the Barack Obama campaign, and Chris Hughes, a
Facebook
founder and architect of Obama's digital campaign strategies, are telling stories about online community and the Iowa caucuses. Later, there'll be a conversation with Jayshree Ullal, who's now CEO of
Arista Networks Inc.
(See
Ullal Lands in the Cloud
.)
— Craig Matsumoto, West Coast Editor,
Light Reading

(0) |