Verizon Fires Up Digital Media 'Factory'

Comment (1)
Verizon Communications Inc.
(NYSE: VZ) is making an ambitious bid to become the virtual glue that holds together the digital media distribution ecosystem while making it easier for service and content providers to execute on their TV Everywhere strategies.
Its new
Verizon Digital Media Services (VDMS)
unit, announced this week at the National Association of Broadcasters (NAB) show in Las Vegas, lets content owners and digital media retailers reach consumers regardless of what device they are using and enables consumers to move their authorized content across devices and networks. (See
Verizon Unveils Digital Management & Distribution Platform
)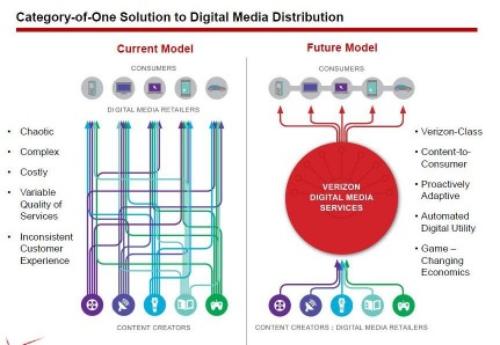 Verizon's Digital Media Services includes two unique components, for which Verizon is pursuing patents. First is a two-tiered distribution plan that combines a centralized Media Transformation Fabric where live, linear and video-on-demand (VoD) content is transcoded and formatted for the full range of potential formats with a Media Distribution Fabric that pushes that content out to edge nodes close to major markets, where all that formatted content is stored for consumer access.
The second piece is session management, which maintains the state of a specific consumer's content to enable device hopping, even when one device is a flat-panel TV on a cable network and the second a smartphone supported by a wireless operator.
Built for scale:
Connected by Verizon's global IP network, VDMS is intended to deliver the scale needed to support millions of unicast content streams of a single piece of popular content, and to offer content providers and digital media retailers the chance to create one high-quality master file and deliver it over a growing number of digital platforms, ranging from IP-enabled TVs to tablets and smartphones.
Verizon also hopes to make a push to add content distribution for pay-TV providers, including cable companies and other telcos, although that product will come second to the Digital Media "factory," where content is transcoded and formatted.
"We think this is the world's first fully automated, fully managed, end-to-end -- meaning content-to-consumer -- digital media utility," says David Rips, an entertainment industry veteran hired by Verizon as president of Verizon Digital Media Services.
Verizon already has nine digital media retailers signed as charter customers, including Turner Broadcasting, Hearst Magazines and The Associated Press, and has about six broadband service providers signed as charter customers as well, although none is a cable company to date, Rips says.
Page 2:
The Analyst Attitude