Huawei's New Prime Time Attraction

Comment (1)
8:30 AM -- Matt Bross, the new CTO at
Huawei Technologies Co. Ltd.
, might not yet be available for media interviews, but you can bet your bottom dollar he'll be made available for public speaking, and pronto! (See
Matt Bross Joins Huawei as CTO
.)
Bross is never short of something to say and is an engaging and interesting speaker with a good eye for a prop. And while Huawei doesn't need its profile raised -- its brand awareness is very strong within the telecom world, it's fair to say -- it
does
need the kind of showmanship and charisma, as well as the contacts and inside line on carrier requirements, that Bross can bring to its table.
I'd be shocked if Bross isn't added to the agenda for Supercomm 2009 (Oct 21-23, Chicago), where Huawei is a sponsor. And although it would be only a few days into his new role, he might even be showcased at next week's
ITU Telecom World 2009
event in Geneva.
If I were Huawei's events coordinator, I'd definitely ship him over to Switzerland for that gig.
Wherever Bross turns up -- and if you're in North America in particular, expect to see him at and industry event near you
soon
-- he won't be hard to spot. The former
BT Group plc
(NYSE: BT; London: BTA) CTO is the proud owner of a large collection of colourful silk ties, and is never afraid to show them off in public. Check out this one below, sported in London in March 2006 along with a natty Bluetooth headset.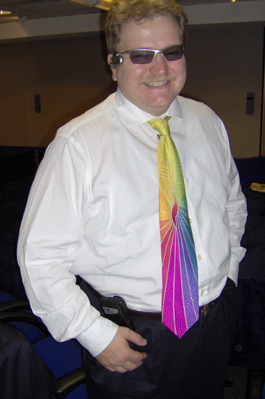 Whatever you think of Bross, he's the kind of larger-than-life personality this, or any, industry needs, and I'm glad to see him back in the fray after a short period of uncharacteristic anonymity during his final months at BT.
If he
does
show up in Geneva, you can read about it at our
ITU Telecom World 2009 microsite
, which already contains previews and news ahead of next week's jamboree.
— Ray Le Maistre, International News Editor,
Light Reading