Microsoft Corp. (Nasdaq: MSFT)'s quest to make its Xbox 360 the home's central entertainment hub took a step forward Tuesday with the addition of three video streaming services: Comcast Corp. (Nasdaq: CMCSA, CMCSK)'s Xfinity TV, HBO GO and MLB.TV.

Those services don't require a separate set-top box, but Xbox 360 users will need to subscribe to Microsoft's Xbox Live Gold service, which runs $60 per year, to get them. Customers with the Kinect accessory can navigate them with hand gestures and voice commands. Microsoft says U.S. Gold subscribers spend an average of 84 hours a month on the Xbox Live service.

Comcast's initial offering on the console is largely limited to its on-demand TV Everywhere content, including HBO fare and Streampix, its new premium-level streaming service. (See Comcast Goes OTT to Target Netflix, Hulu Plus .)

Comcast has said it will explore the addition of live TV channels on the Xbox 360 and, at least for now, is not letting customers authenticate on the separate HBO GO app, presumably because the MSO wants to keep control of the user interface. Time Warner Cable Inc. (NYSE: TWC) currently isn't allowing access, either. However, several other pay-TV providers are, including Dish Network LLC (Nasdaq: DISH), Cox Communications Inc. , Charter Communications Inc. , AT&T Inc. (NYSE: T), Verizon Communications Inc. (NYSE: VZ), Cablevision Systems Corp. (NYSE: CVC), WideOpenWest Holdings LLC (WOW) , Suddenlink Communications , Massillon Cable TV Inc. and RCN Corp.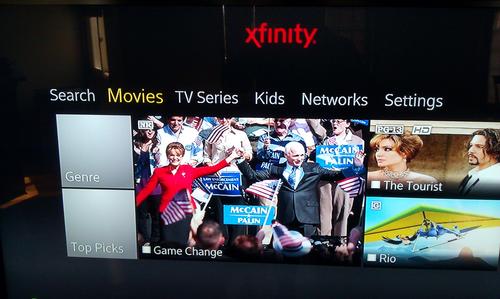 MLB.TV is a baseball junkie's dream, providing live access to most out-of-market Major League Baseball games (local games and Saturday afternoon games are blacked out), real-time stats, condensed games and game highlights.

Why this matters
The launch marks Comcast's first video offering on a gaming console, joining fellow U.S. pay-TV providers, Verizon and AT&T, and it's likely to mark the start of more Xfinity TV introductions on other CE platforms in the months ahead. While Comcast's current lineup is limited to VoD, Verizon offers VoD and a subset of linear TV channels, and AT&T is capable of piping in its entire U-verse TV service with the addition of a $99 hardware kit.

For more


— Jeff Baumgartner, Site Editor, Light Reading Cable