SAN JOSE, Calif. -- Cisco Systems Inc. (Nasdaq: CSCO) is ready to go big with video.

That is, the company is putting forth a plan that would turn the network into the ultimate video mediator, handling all the translations necessary to send any video to any endpoint.

Cisco also says the network can connect otherwise incompatible endpoints, create ways to search videos or, eventually, translate spoken languages.

There are dozens of other examples. The point is: The network becomes the entity responsible for the video experience, and the network takes the lead in making video a plug-and-play function for cellphones, desktop computers, and other devices.

The term for all this is "Medianet," but it's a grown-up and more concrete version of the Medianet concept that Cisco coined in 2008. Executives explained the concepts to press and analysts Tuesday morning, in a presentation held via telepresence and WebEx.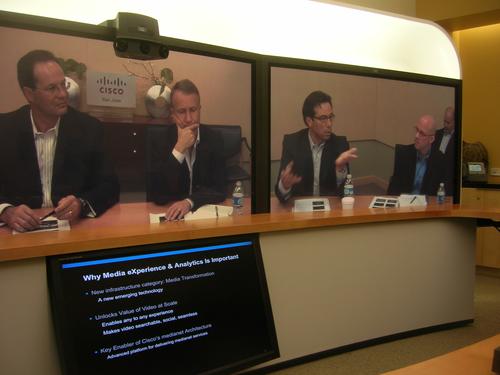 Medianet was more vague two years ago, referring to an IP network that was designed for video transport. Specifics were few; this was one of those "vision" things. Cisco officials say they mainly wanted to establish the concept that video was going to require severe transformations in the network, changes far beyond the addition of extra bandwidth. (See Cisco's Video Transformation .)

The changes wrought by video could mirror what happened with electronic commerce in the '90s. But video "needs to be a much more well-defined architecture than e-commerce," said Marthin de Beer, the senior vice president in charge of Cisco's emerging technologies group.

In Cisco's vision, endpoints would no longer need to interoperate in terms of codecs or video quality. The network would detect the endpoints and perform the necessary translations.

Other companies might agree with all this, but they'll be less enthusiastic about Cisco leading the video charge. The company is making its usual vow to stick to standards, or at least offer some technologies as standards. It's also making a critical piece of client software available for free.

Still, Medianet could be said to boil down to the usual pitch of an all-Cisco network.

De Beer countered by saying Cisco should be in the lead, having amassed more than four years' experience at this and having poured hundreds of millions of dollars into video-related research. "They're going to find it hard to catch us," he said. "As what we do in Medianet flows into standards, they will have to adapt to that."

Cisco does intend to enlist some help. Key client software, called the Medianet Service Interface, will be offered free to the entire industry. It includes support for a lot of Cisco's Medianet features, so that a device from some other company could tap into some of the features Cisco is promising, such as autodiscovery.

Boxes, too
The Medianet plan is going to take some new equipment, some of it in categories yet undefined. Sometime later this week, Cisco plans to launch the Media Experience Engine (MXE), a line of in-network systems that will detect video endpoints, figure out the parameters they're using, and perform the necessary translations.

What do you call a box like that? Some customers have used the phrase "video router," but Cisco frowns at that, because the box isn't doing IP lookups or anything like that.

Cisco thinks this middleman function is vital to the future of video. "It could be as big as something like Nexus for our data centers or Cat6K [the Catalyst 6000 family] for our switching business," said Didier Moretti, vice president of Cisco's media experience and analytics group.

The MXE 5600 is an eight-slot chassis, with each blade carrying 45 digital signal processors (DSPs) and 15 field programmable gate arrays (FPGAs). Cisco also has a pizza-box version, the MXE 3500.

Among the MXE's other nifty tricks: The ability to transcribe a meeting via voice recognition software that can be seeded with voice samples of the speakers. (All of Cisco's executives have been voice-sampled that way.) This turns video into a searchable medium; one could find all the instances where John Chambers says "Internet," for instance.

Cisco will also announce its Digital Media Player, the DMP 4310, which feeds video to arbitrary endpoints. Sports stadiums have been using this since January for the digital signs that Cisco peppers everywhere. New Meadowlands Stadium has 2,200 of them, said Thomas Wyatt, Cisco's vice president of digital media solutions.

But the new hardware is only part of the Medianet assault. Hardly a week will go by without some Cisco product getting enhanced with some Medianet-related feature, and Medianet will get infused into new versions of Cisco's Internetwork Operating System (IOS), executives said.

— Craig Matsumoto, West Coast Editor, Light Reading