Cisco, Nortel Tee Off in Telepresence
Even if "
immersiveness
" isn't a real word, it's the very thing two communications equipment giants --
Cisco Systems Inc.
(Nasdaq: CSCO) and
Nortel Networks Ltd.
-- use to judge their respective offerings in the field of telepresence, where video conferencing meets reality TV.
The goal in a telepresentation, as our reporters have recently witnessed, is to make the participants of what we used to label a "conference call" feel as if they're in the same room together. The people are life-sized. Their voices give some approximation of how close or far away they are. The images are bright and vibrant, and the sound is crisp and loud.
Both Cisco and Nortel hit very close to the mark, judging by our recent visits, but each has a slightly different advantage.
Cisco's telepresence kit was edged out visually by Nortel's presentation. Nortel's setup used two, side by side, very large rear-projection high-def screens. Cisco's row of three high-def plasmas, while great looking, still gives one the feeling of watching TV. Have a look: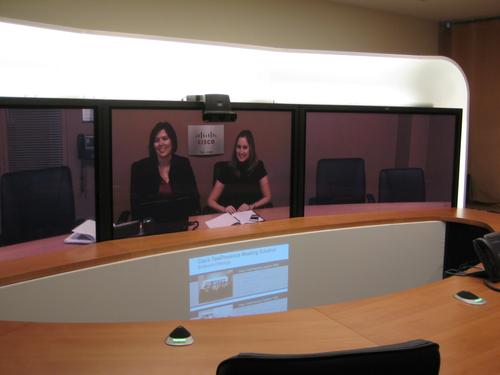 Cisco, though, had flawless audio, compared to Nortel's slight delay. It wasn't dubbed-karate-movie bad, just a slight, split-second hitch that kept it from feeling "real."
Both companies handle all the installation, and both run similarly high price tags of around $300,000 for the most tricked-out rooms. Both have smaller more cost-efficient options. Cisco for example, does have a one-screen room for $79,000.
Cisco claims to have an installation advantage in that, since it is using mounted TVs and not tearing out walls, it can convert an existing conference room into a telepresence room provided the room has the correct dimensions. Nortel's solutions are built from scratch.
Cisco has shipped 160 rooms in the past 12 months. Nortel won't say how many installs it has lined up.
Both companies make the telepresence system easy to use. Cisco's telepresence meetings can be set up via Microsoft Outlook. Once the appointment is scheduled, the information is pushed to the touch-screen phone in the telepresence room, and the meeting can begin with a single touch of a button.
Nortel uses its own Web reservation system to set up a telepresence meeting, but the outcome is similar.
Cisco announced today its system is now more interoperable and can even talk to non-Cisco telepresence setups. (See
Cisco Improves Telepresence
.) Cisco claims the inter-company features are an industry first, but Nortel's VP of Network Application Services, Dean Fernandes, says his company has been making such inter-company calls "since the service's launch in May."
(For more pictures of the services, go here:
Nortel Trumps Cisco?
and
Cisco's Telepresence
.)
Nortel says its service is vendor agnostic. All of the equipment in the telepresence room is delivered through a partnership with
Polycom Inc.
(Nasdaq: PLCM). Cisco, meanwhile, uses its own equipment for everything from the TVs to the microphones to the cameras.
"The engineering team had thought long and hard and found that there was nothing out there that met their requirements except for our own equipment," says Cisco's telepresence marketing manager, Erica Schroeder.
Both are now available worldwide in most major metropolitan markets. Cisco says it is in the process of deploying in over 40 countries, and Nortel has network operation centers in North America, Europe, Asia, and Australia.
— Raymond McConville, Reporter,
Light Reading
PARTNER PERSPECTIVES
- content from our sponsors