Clearleap Marries Web TV With EBIF

Comment (0)
9:05 AM --
Clearleap
is bringing its Web TV know-how to the
Enhanced TV Binary Interchange Format (EBIF)
world via a new partnership with with
FourthWall Media Inc.
(formerly BIAP Inc.), one of several firms that makes the EBIF "player" that resides in set-top boxes.
Clearleap and Fourth Wall have hooked up to create a "video-centric" EBIF widget, starting off with an interactive app featuring content from The Weather Channel. In that scenario, the app appears as a pop-up on-screen, giving viewers the ability to access local weather info and link to a video summary from the network, which has been pulled in from the Web by Clearleap's platform, translated to a format that allows it to run on the cable operator's video-on-demand (VoD) platform, and displayed on legacy, non-IP digital set-top boxes.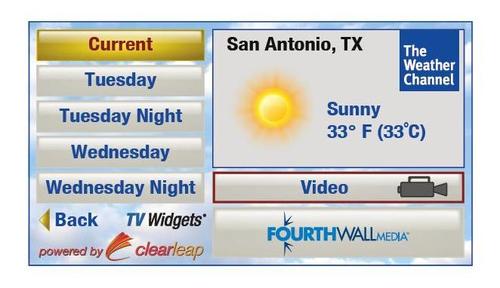 This approach "gives the [EBIF] apps instant access to a huge amount of video that they traditionally couldn't access," says Clearleap CEO Braxton Jarratt.
Although the overarching idea isn't entirely new (EBIF can be used to "telescope" viewers to longer-form videos about an advertised product), typically that video content has to be baked into the VoD system weeks ahead of time. Clearleap thinks its Web-based, rapid publishing system can help MSOs bring in more time-sensitive video from the Web in near-real time and sidestep the MSO's VoD content pitching and catching infrastructure and its more time-consuming workflow process.
The weather app marks the first such EBIF-powered example from the companies, but more are under development, according to Jarratt.
Jarratt says the app is ready for deployment, but cable engineers will be among the first to check it out, as it's been submitted for the Innovation Showcase to be held at next week's
CableLabs
Winter Conference in Denver.
Clearleap has deployment deals with several MSOs, including
Bresnan Communications LLC
,
Atlantic Broadband
, and
Comcast Corp.
(Nasdaq: CMCSA, CMCSK), which is using the vendor's system in Houston. Jarratt says Clearleap expects to add another "top-five MSO" this quarter. (See
Clearleap Nets Bresnan Deal
and
Clearleap Jumps on First Win
.)
— Jeff Baumgartner, Site Editor,
Cable Digital News